Arnaud Tougma, Project Manager in Burkina Faso, has just returned from a mission in Ouahigouya, in the north of the country, where it is now difficult to travel due to growing insecurity. He reports on the situation on the ground and explains the implementation of support for displaced children and women in the area.
I have just returned from a mission in the North of Burkina Faso where it is now dangerous to travel. The situation is getting worse and worse in this area. The population of the town of Ouahigouya has doubled with the arrival of more than 100,000 displaced people. The few men who have managed to escape the violence are idle and often leave to find work and support their families. The women, alone with their children, have become heads of households and also take care of the children of sisters, neighbors...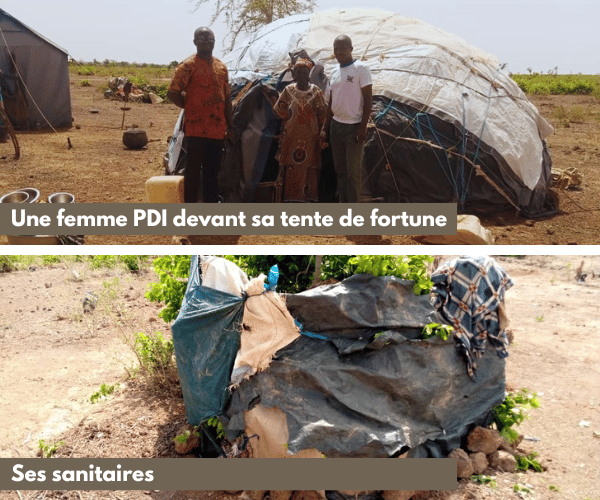 The few sites organized to accommodate them are overcrowded. People settle in so-called "undeveloped" areas and on open land. They set up makeshift huts with salvaged materials. Housing, access to sanitation and food are very problematic. Everyone is on the alert and wants to keep their children close in case they have to flee again quickly.
We have identified the land on which we will install our "Child Friendly Space" and have obtained the administrative authorizations to set it up: a 100 m2 space in a 2 hectare camp for Internally Displaced Persons (IDPs). This camp is close to a populated area where other IDPs also live and can benefit from the project.
We are setting up the space in August to begin activities with the children in September. We will welcome a maximum of 50 children per time slot, depending on the age of the children. We have to adapt the activities according to the profile of the children: some have fled in anticipation of the violence, but others have been attacked and are traumatized. It will be important to provide them with appropriate psychosocial support. We have also seen in other sites that receive children that some arrive hungry or that others do not come because they are looking for food with their mothers. So it's important to address that. Our goal is as much to protect these children in this care space as it is to prevent the children from working and to provide them with fun and learning activities.
In parallel, the Ministry has provided us with a list of women in great difficulty. We are currently conducting an investigation with the Provincial Directorate to select the 50 women who will benefit from a financial allowance of 23€ per month for 6 months. We are also recruiting a social worker to accompany these families. We are going to discuss with these women to identify their skills (some used to make wall hangings, others pottery, some cook...) and train those who wish to do so in the management of a micro-enterprise.
It is likely that this support, halfway between emergency and development, will be needed for many months. But for budgetary reasons, our activities will run until the end of 2022. We will then adapt our presence according to the funding obtained.
> Learn more about our project for internally displaced persons in Burkina Faso