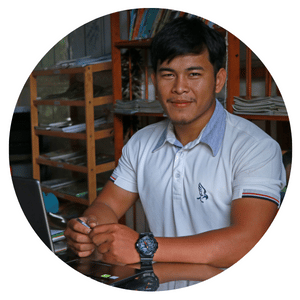 Phanith, tell us a little about yourself
My name is Phanith Horng, I am a Cambodian from Banteay Meanchey, a province in the northwest of the country and I am 24 years old. I graduated from the National Institute of Technical Training with a Bachelor's degree in Civil Engineering in late 2021.
Before joining Planète Enfants & Développement, I worked for two local construction companies: first as a site engineer on a residential project in Phnom Penh for 6 months, then another 6 months as a quantity surveyor.
What does your day-to-day work consist of?
I work mainly on the renovation of housing for the families we support and on micro-projects to improve infrastructure in their neighborhoods.
For renovations, we begin by conducting a feasibility study. We interview families and examine their homes in detail to assess and determine the work needed. After my supervisor develops an estimate, I coordinate with vendors to purchase and deliver materials. I also support the hiring of skilled labor, which may be from our intervention communities. We then distribute the materials to the beneficiaries, sometimes up to 10 at a time, to begin their renovation work.
I conduct regular inspections to ensure that the work is proceeding as planned. Finally, the Construction Manager, the Project Manager and I evaluate the final work together.
The micro-projects aim at improving the collective infrastructure: roads, drainage systems, etc. in our intervention communities. I help the Project Manager conduct a feasibility study for each project, design and revise the technical plan, and estimate the cost. Then we issue a request for proposals to select contractors. Throughout the process, we work closely with local authorities and residents. Once the work is completed, I also participate in the evaluation of the work.

What do you like most about your work?
My favorite part is the phase where we evaluate the work, meet and discuss the achievements with the families. 
I can see how happy these residents are and it inspires me to work harder to support those in need.
Everyone should have a safe and clear place for their children to study and do their homework at home. Education is a way for the new generation to escape poverty. As for me, I also hope to continue my studies when the 2nd phase of the project is finished!