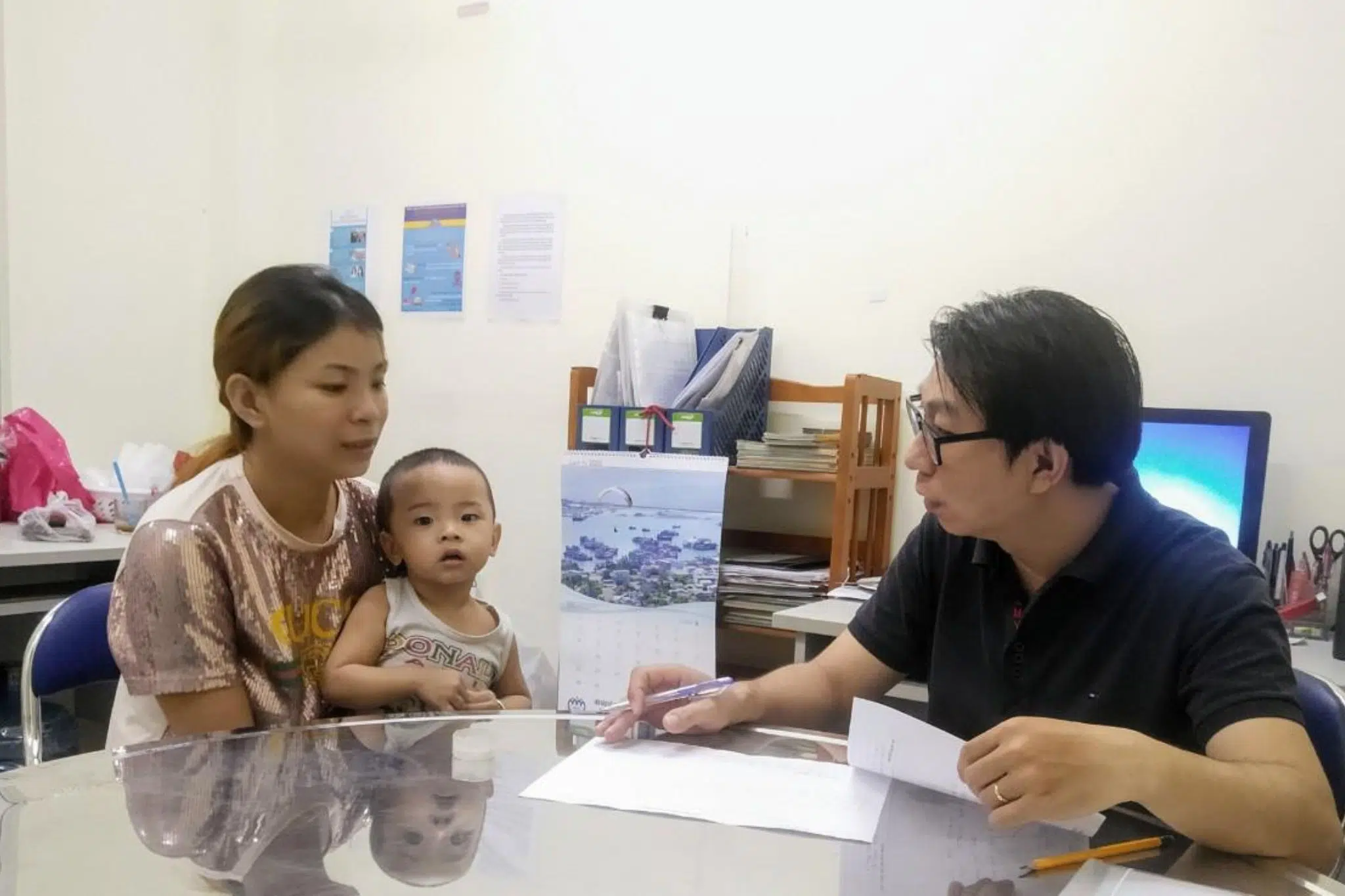   Accompanying families  2011-2020
Accompanying families in Vietnam, in Ho Chi Minh
Our family support program, launched in 2011 in Ho Chi Minh City, ended in 2020. During this last phase, we worked with our partners to transfer social assistance skills and ensure sustainable support for families in extreme poverty.
Vietnam's economic growth remains one of the strongest in Southeast Asia, but the overall figures hide widening inequalities: problems of poverty, health and violence persist in rural areas and poor neighborhoods in the big cities.
The country is experiencing a massive exodus of people from the countryside to large cities such as Ho Chi Minh City, the economic capital of the country.
In Ho Chi Minh City, nearly 1/4 of the population is of immigrant origin and the number of poor families remains high.
Despite the law of July 1, 2007, which facilitates the registration of residence, many migrants are not registered and therefore cannot benefit from the government's social policy or from school for their children.
The local authorities, in particular the DOLISA (Department of Labor, Invalids and Social Affairs of the city), are invested in the reduction of poverty and the improvement of the living conditions of the populations but struggle to carry out their missions due to the lack of an adapted approach, material and technical means, and coordination.
How is your donation used?
For every 100€ collected by Planète Enfants & Développement, 85€ are dedicated to our social mission.
Our projects are evaluated by independent firms. And our accounts are audited and certified each year by KPMG.
is the country's ranking on the Human Development Index (out of 189)
ehtnies cohabit in Vietnam
of the poor are from ethnic minorities
of the immigrant population in Ho Chi Minh
Between 2011 and 2020,Planète Enfants & Développement has conducted a Family Accompaniment Program in Vietnam in 3 districts of Ho Chi Minh City (districts 8, 9 and Tan Phu). We have developed a method of social assistance to families in difficulty, over 6 to 9 months, in their homes and in social centers. Highly vulnerable families have been provided with a psycho-social follow-up to help them identify their problems (health, education, administrative, income, domestic violence, etc.) and guide them in resolving them.
In the centers established by PE&D, in partnership with the Center for Social Work for Children (CTSE) and in the process of administrative transfer to DOLISA, they can find information and advice from social workers. Our team on site runs a network of over 100 social service providersboth public and private.
The independent firm Archipel conducted a evaluation of the 9 years of social work of Planète Enfants & Développement alongside beneficiaries, partners and local authorities:
"By seeking to solve problems at the grassroots level, family support brings long-term results [...] Planète Enfants & Développement has strengthened the capacities of civil servants and community advisors in charge of family and children at the level of the neighborhoods and districts of intervention, as well as the personnel in charge of managing the social centers. The network of social service providers is in place and effective".
In 2019, we received the Certificate of Merit from the HCMV People's Committee for the 3rd time for our decisive contribution to improving the humanitarian situation of the city's residents.
Vietnam: more quality childcare for young children
Vietnam: Protecting trafficked children
Hy Vong: Let's fight violence against women
Our partners in the field
DOLISA:
Department managing the city's social affairs policy
Center for Childhood Social Work (CCSW) - Public service that collaborates with PE&D on capacity building for community counselors and child welfare officials
People's Committees of the intervention districts :
Local authorities in charge of identifying families and referring them to PE&D.