With the Covid-19 crisis, the Heroes' Run is forced to adapt. If the event cannot gather all the participants in the park of St Cloud as planned, it will take place all together, in France and even in the world, on June 28th!
What's new
NEW DATE appointment on June 28, 2020 morning.
NEW FORMAT : a connected challenge to do at homewith broadcasting and monitoring through your computers, tablets or smartphones.
BONUS : of sessions of

coaching

weekly of 30 to 45mn animated by professionals from mid-May, to follow at home.
OBJECTIVE OF MOBILIZATION OF YOUR ADAPTED RELATIVES  : get 150€ minimum donation before June 19th to validate your participation (don't panic, it can be scary at first, but your relatives are proud of your commitment and support you!)
REGISTRATION FEES : exceptionally, the organizers will donate your 15€ registration fee to the association that you support, that is to say us of course!

Why participate in the Connected Heroes Race on June 28, 2020 with us?
Because it is really the time to do things together, to stay together, to share, to

live a collective adventure

Because with this unique experience, you become

actors and actresses of change 

and join our solidarity movement 

#SengageWithoutBorders

Because the challenge is now addressed to

all

and all, sportsmen or not, everywhere in France.
Because, with weekly coaching starting in mid-May, you will recovering the post-confinement form !
Because we count on you, our beautiful team, to provide the equipment of a new boarding school for the girls of the Chepang community in Nepal.
Because this internship is

a chance for 35 teenagers

to continue their studies and to consider

a better "next world

This is the only way to ensure that the children are not at risk of early marriage and sexual exploitation.
The steps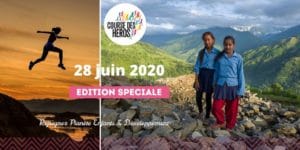 1. I am registering (registration fee of 15€, given to the association by the organizers as a donation)
2. I personalize the web page of my challenge sent to me by the Heroes' Race: a photoa small motivational message (in 3 clicks it's done, it's very simple)
3. I share my page with my friends. My goal: to raise a minimum of 150€. before June 19th to validate my participation on the day.
4. I participate on June 28 to the event, with a great program all morning.
> Learn more about the Race of Heroes website.
If you have any questions, please contact us by email: siege@planete-eed.org.
Updated May 15, 2020