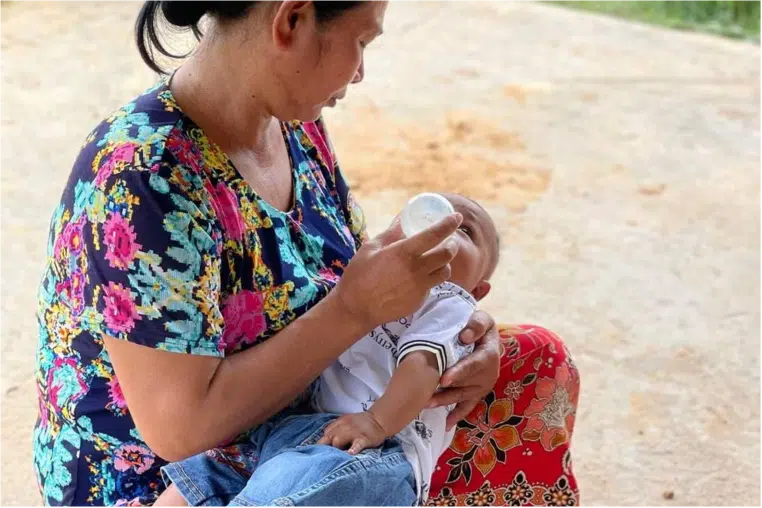  Early Childhood Development   2020-2023
Daycare centers in villages for early childhood in Cambodia 
In Cambodia, where more and more women are working in factories, the need for childcare for young children is great. Many families entrust their toddlers to grandparents who are overwhelmed by the notions of stimulation of the young child.
Nearly 700,000 people work in the garment industry in Cambodia.
90% of these are women. 
The State has the will to develop early childhood in Cambodia: the law requires companies with more than 100 employees to provide childcare, but there is little compliance.
A study on the corporate childcare landscape in Cambodia, conducted by Planète Enfants & Développement on behalf of the World Bank in September 2019, shows that only 13 of the 700 factories in the country are in compliance with the law.
Often, companies prefer to offer compensation to their employees.
Public daycare centers are mostly in big cities and private structures are too expensive for working women. They cost on average 100$ per month while the average wage of a female worker in the garment sector is 180$ per month.
The workers are therefore obliged to spend between 25 and 70$ per month to have their children looked after by relatives or friends.
How is your donation used?
For every 100€ collected by Planète Enfants & Développement, 85€ are dedicated to our social mission.
Our projects are evaluated by independent firms. And our accounts are audited and certified each year by KPMG.  
Launched in 2020 based on the lessons of the Social services in factories" project,this project provides for the construction, by 2023, of  12 crèches in the villages where the women workers of the garment industry live (in the provinces of Kandal, Kampong Speu and Kampong Cham). 
It should give 350 children the chance to benefit from appropriate care and learning; and for Cambodian women to continue their work and contribute to the family income.
Each nursery will accommodate 25 children from 6 to 36 months, 6 days a week. The buildings will meet environmental and health standards to ensure that the children have a safe and developmentally appropriate space. The factories will cover part of the registration fees to make daycare centers more accessible to women workers.
Planète Enfants & Développement also develops a curriculum of Training of early childhood staff in Cambodia who will be working in these nurseries.
Finally, convinced that theinvolvement of the villagers is essential to the sustainability of the project, we have thought about a community model that will include awareness sessions open to all, around child nutrition or domestic and educational violence.
"We want to drive a new model of daycare that involves the employers of the factories in the funding, which involves parents but also the communal councils."
Nathalie Dupont, Director of PE&D Cambodia in 2020
Our partners in the field
Ministry of Education, Youth and Sports of Cambodia
Ministry of Labor and Vocational Training of Cambodia
Ministry of Women's Affairs of Cambodia
Ministry of Health of Cambodia
Provincial districts and municipalities