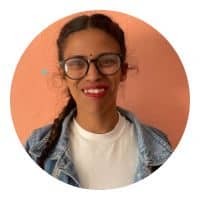 Komal is 25 years old. In reconversion, she has just joined the Pariwartan project team as a social worker, to help women drawn into prostitution to get out of it in Nepal.
Like her, you can join the movement for the respect and dignity of women by purchasing the Pariwartan bracelet.
What is your story Komal?
I quit my undergraduate studies when I got married. A few months later, the pandemic hit and my husband lost his business. He went to work abroad. I looked for a job as a teacher (I had already taught math), but I couldn't find anything. So I started working in a spa in Kathmandu.
That's how I discovered the Chhori association. The social workers were doing awareness visits in the Spa and were following some employees. Chhori counseled me for two years and finally helped me get my license. When I heard that the association was looking for a social mobilizer for the Pariwartan project, I applied and was chosen. I left my job at the Spa a few weeks ago. I am in the middle of a reconversion!
What are your motivations to accompany, within the framework of the Pariwartan project, sexually exploited women to get out of prostitution?
At the Spa, I managed to refuse to engage in sexual practices. But for 3 years, I saw so many women who were so desperate, so worried about their money problems and ready to do anything... I was ashamed of this job and many girls feel the same way.
I want to show them that they will never be happy in this situation and that it is possible to get out of prostitution.
I don't want other women to be dragged into this hell.
What about tomorrow?
Along with my work as a social mobilizer, I may start a degree in computer science...and one day become a math teacher, my dream.
The sales of our bracelet are part of the Pariwartan project to help girls leave prostitution and reintegrate.
With the Pariwartan braceletwhich means "change" in Nepali, you are asserting the right of women to respect and dignity, you are changing their lives.