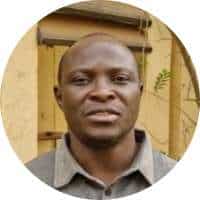 Our project manager Arnaud Tougma travelled to the town of Koudougou in Burkina Faso at the beginning of June, to visit the young mothers we have been supporting over the past few months through the Promacel association.
A look back at this mission with Arnaud.
"With each new meeting, I see that things are progressing little by little. Since Father Oudet called on us last year to help isolated girl-mothers in Koudougou, we first provided emergency support to pay rent, bring in food and carry out health check-ups.
Father Oudet, who has been in Burkina Faso for several decades, was keen to develop a local association to support these teenage girls in addition to his long-standing commitment as a missionary. The Promacel association, made up of women supported in the past, as well as civil servants and students, is new and needs to be organized. The role of Planète Enfants & Développement is to help it do so.
I help it to define and respect the roles of each of its members, to train and keep its accounts correctly, and to organize support for the girl-mothers. This ranges from rehousing to helping them meet their food and health needs. During my mission at the beginning of June, I brought along a computer to facilitate the association's work and a motorcycle to enable its members to visit young girls living in remote areas of the city.
This last point is something we need to work on. During my visit and discussions with a dozen young mothers, I noticed that some of them are too far from the city and the social services they could benefit from.
So we're going to work with Promacel to relocate girls close to health centers, in particular, to provide better care for pregnant girls, mothers and their babies. We also plan to organize new meetings with the latter, close to their homes, to raise their awareness of their role as mothers, reproductive health and their rights. For example, we need to organize the drawing up of civil documents for children. We are also starting to offer training courses to these young mothers, so that they can develop income-generating activities and gradually help themselves."
25% of Burkinabe teenage girls aged 15 to 19 became pregnant in 2018. In Mossi beliefs, the country's majority people, getting pregnant out of wedlock puts all the men in the family in mortal danger. Most pregnant teenagers therefore find themselves rejected, alone and without resources. We would therefore like to help the Promacel association provide emergency support to around a hundred young single girls affected by these early pregnancies, as well as offering them the chance to return to school or training.
NB: for the sake of the girls' well-being and rehabilitation, we do not divulge their identities.