On October 28th, our team in Nepal visited Sitara and her family. Sitara is blind. When we first met her, she was not walking, she was malnourished and did not go to school. Today she is progressing.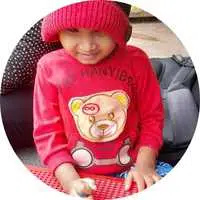 Sitara is 5 years old. She is blind since her birth. She lives in the countryside, in the municipality of Gajuri in Nepal, with her parents and her 8 months old brother, who suffers from the same handicap.
When Renuka, the social worker from our partner Prayas Nepal, met Sitara a few months ago, the little girl and her family were in great difficulty.
Although she was 5 years old, Sitara did not have a birth certificate. She was not fed properly and did not walk. She did not know school. Sitara was excluded by her disability.
Sitara and her family were able to benefit from a psycho-social support to help them find solutions for the little girl:
- Her parents received advice on improve the children's meals and help Sitara to learning to walk despite a visual impairment.
- The social worker Renuka organized a medical visit to an eye hospital.
- It has also taken steps to enroll Sitara in kindergarten of the local community.
- Renuka connected the family with Nepal Netra Jyoti Sangha, an organization that works with and for blind people in Nepal.
- Sitara and his family discover the first notions of Braille.
- Discussions are currently underway with a specialized school for visually impaired children to welcome Sitara in April 2022.
With Prayas Nepal, we regularly follow up with the family to advise the parents and ensure that Sitara is attending school, that she is in good health and that she will be enrolled in a special school from next year.
"The ophthalmological assessment concluded that Sitara cannot be operated on. She has to learn to live without her sight. We are now delighted to see that Sitara looks better and that she has started to walk! She now has identity papers and is enrolled in school. She is discovering Braille. Finally her rights as a child have been recognized and she will be able to start her life with better chances.