A librarian from our partner association SIPAR went this week to meet the children and families we support in the slums of Phnom Penh, driving his Tuk Tuk. It was the first of a long series of tours planned in these precarious neighborhoods until 2024 to offer the children animations and educational activities around reading.
The Tuk Tuk library, a motorized three-wheeler, was created in 2020 to reach the inhabitants of seven slums of Phnom Penh, which are not easily accessible by van. Developed by the association SIPAR, in partnership with Planète Enfants & Développement and two other organizations, it started its rounds this week.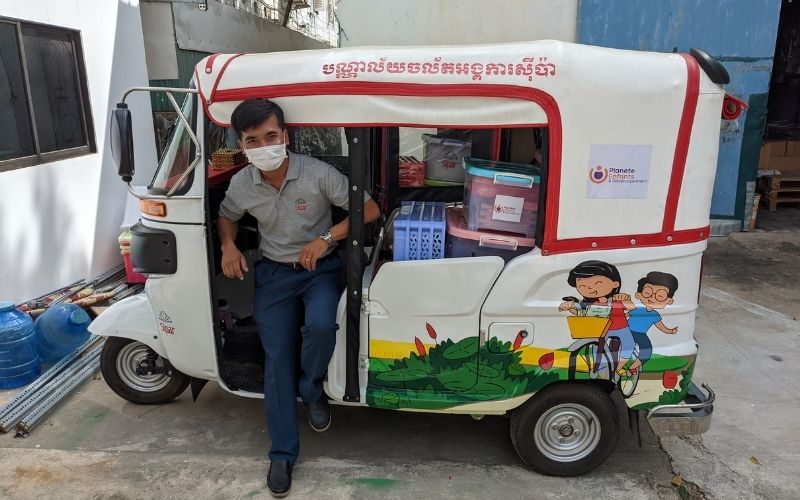 Loaded with books and games, the librarian and his assistant go out to meet children and their families. They set up in a sheltered place (a social center for example) and gather 15 to 30 children for a 1h30 to 2h animation around reading.
After welcoming the children around a collective game or a rhyme, the librarian reads them a story and then engages them by asking them questions. The children can also consult books made available to them for free reading time, alone or in groups. They can also borrow 2-3 books for a week. The end of the session is devoted to various educational activities: puzzles, drawings, coloring, origami, small science experiments...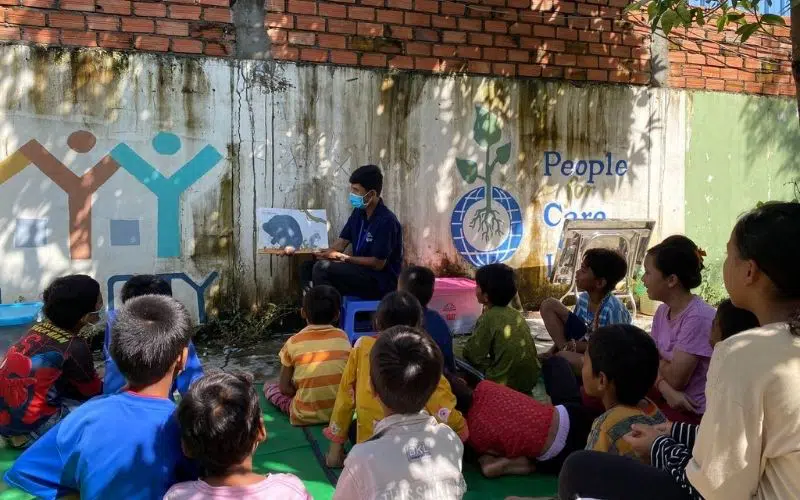 Given the delay of the children due to the closure of schools in 2020 and since March 2021, this mobile library also aims to compensate for the lack of educational stimulation in recent months. This is why the librarian also proposes games to primary school children, around the mastery of Khmer and mathematics (lotto, mental calculation game, memory...) and by using dedicated digital applications.
Once or twice a month, it offers more specific and fun activities around health, nutrition, hygiene and the environment.
The children are registered and followed personally as much as possible in order to measure their progress but without pressure so as not to lose the pleasure of reading and learning.
> The Tuk Tuk library tour is part of the project to support children and families in the precarious neighborhoods of Phnom Penh (Hali).
3 questions to Khem Thann, SIPAR's Mobile Library Unit Coordinator since 2018.
What is your role in SIPAR?
SIPAR exists since 1991 in Cambodia. Our mission is to make books accessible to all. To do this, we work in poor rural communities. With the HaLI project, we are now also in the suburbs of Phnom Penh. We strive to develop reading habits among children from kindergarten to high school!
Our mobile library program started in 2000. I coordinate 13 mobile libraries, 9 vans, 1 boat library and we used to have 3 motorcycle libraries but we converted them to Tuktuk libraries because they are more adapted to the road.
What are your ambitions for the children and the country?
Most Cambodians have lost the habit of reading. Even though our country is developing, it is difficult to find books, especially in remote areas, and even more so at affordable prices. Moreover, there are often mistakes in the books available in the market.
Through our mobile libraries, we hope to offer the poorest children access to a diverse range of quality books [SIPAR has published 220 titles in Khmer since 2000]. Without the intervention of NGOs like ours, children would always find the same old books and get bored.
It is known that the more children read, the more they increase their knowledge and consequently have a better success rate in school.
In the current context, do these tours and this partnership with Planète Enfants & Développement make even more sense?
In the health context of Covid-19, confinements and school closures, all mobile libraries continued to circulate. We adapted to the needs by converting our mobile libraries into mobile schools, a way to fight against school dropouts and keep a continuity in learning. Our Biblio Van and Tuk Tuk also went door to door to bring books to children from the most vulnerable families. Sipar has also trained community volunteers in tutoring.
With its partnership with Planète Enfants & Développement, SIPAR wishes to pursue its objective of developing reading habits among children, but also to raise awareness among children and adults about hygiene and the environment, in order to participate in improving their living conditions and living together better.