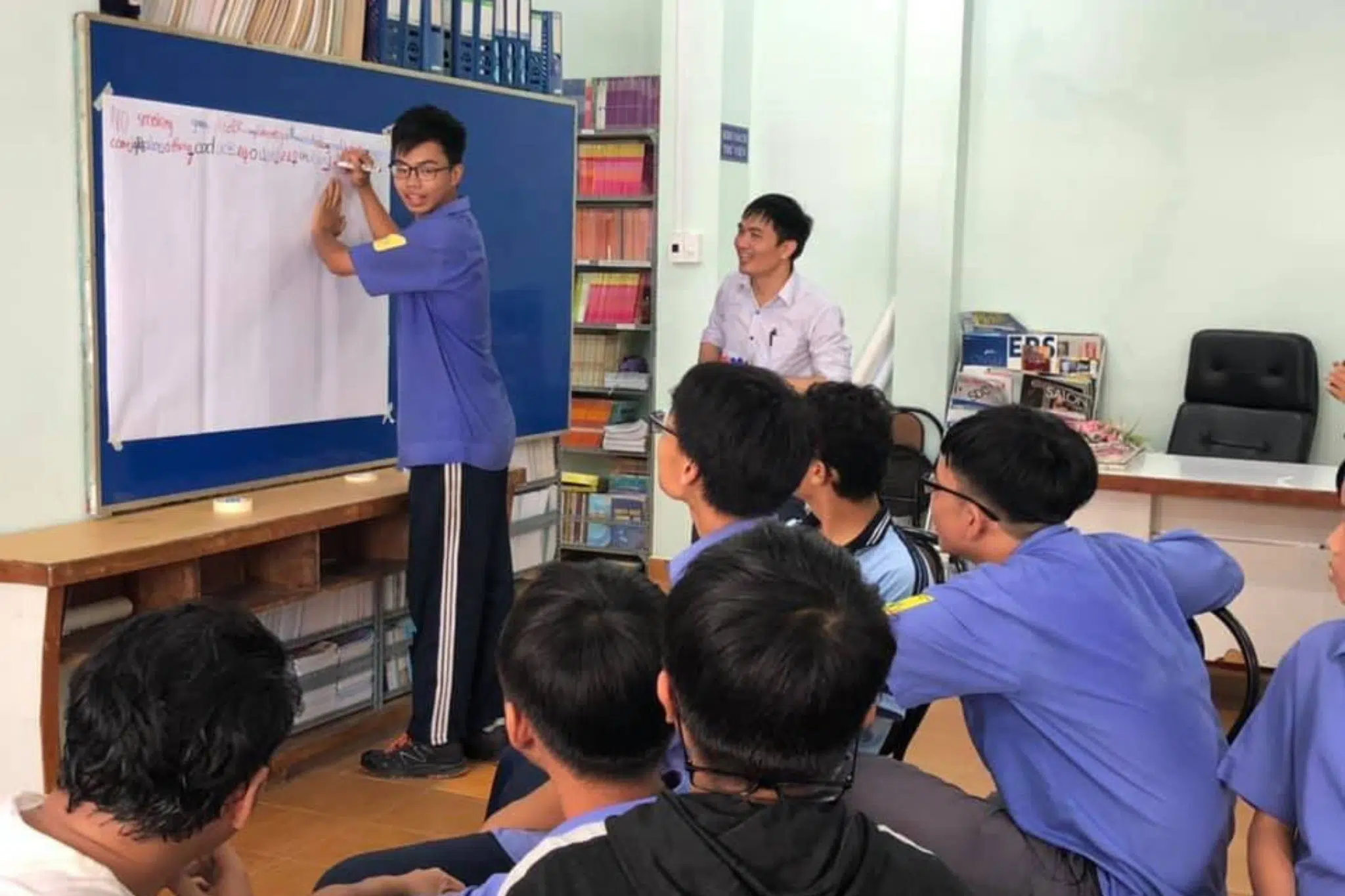   Socio-professional integration  2019-2020
The Imagine project for better living together
Young people between the ages of 16 and 30 represent nearly 25% of the population of Vietnam. In this country, torn between unbridled economic development and the weight of tradition, young people must find their place in a more just society. 
"Women are more delicate, kind and forgiving. They have more respect for men.
On the contrary, men are strong and sometimes aggressive." This is the view that some young people in Vietnam still have, both in the cities and in the countryside.
Poverty, violence, discrimination, pollution, migration... many social issues are of concern to Vietnamese youth but are still taboo in the country.
40 vulnerable Vietnamese youth, ages 13-18, joined a learning pathway on the theme of "Living Together" at our 2 partner vocational training centers in Ho Chi Minh City in December 2019.
An opportunity for these young people to speak out and propose solutions for their country.
How is your donation used?
For every 100€ collected by Planète Enfants & Développement, 85€ are dedicated to our social mission.
Our projects are evaluated by independent firms. And our accounts are audited and certified each year by KPMG.
This is the number of women ministers
of domestic work done by women
more exposure to fine particle pollution than recommended by the WHO
ehtnies cohabit in the country
This project is the result of Planète Enfants & Développement's collaboration with the NGO Le Projet Imagine, whose Imagine Schools program aims to raise the civic awareness of young generations and involve them in changing society. 
PE&D and Le Projet Imagine first collaborated to adapt the Imagine Schools curriculum to the Vietnamese context.
Then two social workers from PE&D animated working sessions with students from the Nhan Dao and Hung Vong professional centers with whom we work in Ho Chi Minh City. These sessions allowed them to become aware of certain social issues: learning to know oneself and others better, migration, gender equality, climate change and the sustainable city.
The students then carried out group projects in their communities on topics they chose. At Nhan Dao Vocational School, three groups of students carried out projects on sustainable development and waste recycling. The groups of students at the Hung Vuong center also carried out projects on sustainable development (e.g., a hanging garden combined with a waste and used battery collector) but also on living together.
Finally, in August 2020, an award ceremony was finally held in each of the partner schools to allow the students to present their projects and receive their awards.
Vietnam: more quality childcare
Vietnam: Protecting trafficked children
Vietnam: Let's fight against violence against women
"I think this club is important in Vietnam where people are attached to old traditions. It helps us to better understand the origins of certain discriminations, to discuss them and to make sure that we can live in peace together without having to hide."
Thiên Phước, 17 years old
Our partners in the field
Hung Vuong - Public vocational training center specialized in technical training: air conditioning system installation, automotive repair, cell phone repair, etc. Hung Vuong has partnered with PE&D since 2014 to implement work-study training sessions on refrigeration systems.
Nhan Dao - public vocational training center specialized in aesthetics: hairdressing, nail care, etc. Nhan Dao and PE&D have been working together since 2013 to adapt the training offer to the demand of businesses. In 2018, PE&D and Nhan Dao also established a social enterprise, Lá Nails.
Le Projet Imagine - Information NGO that aims to create a movement of citizen engagement for a more inclusive and sustainable society.