In connection with the news about the coronavirus epidemic, here are some news from the countries where we intervene and from our team at headquarters.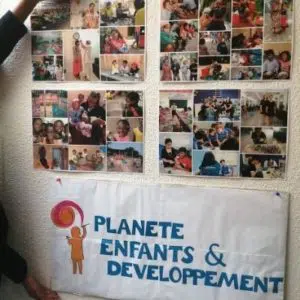 Whether in France or in our countries of intervention, our current priority is to continue to show solidarity with the most vulnerable populations.
New arrangements for the team in Paris
Like all of you, we have taken containment measures. The entire PE&D team has made arrangements to work from home and avoid travel. 
During this period, we will not have access to our mailbox. If you have sent us an important mail, please inform us by email or phone. 
We will also send you your orders made in our solidarity store as soon as we return to the office.
→ If you have questions about your donationsyou can reach Laurence Nail by phone at 09.65.35.35.03Monday to Thursday from 9am to 6pm and Friday until 12pm.
For all another questionIf you have any questions, do not hesitate to send us an email at the following address siege@planete-eed.orgWe will respond as soon as possible.
Some news from the field
Finally, I would like to take this opportunity to give you some news from the countries where we operate. Like what is happening in the world, the situation is very contrasted but tends more and more towards the same measures:
At

Vietnam

The country is at a standstill. Schools and training centers have been closed for several weeks. Gatherings are forbidden. Our activities are suspended for the moment, but the teams are working from home on the training tools, the manual of the social center and any other activity that can be done remotely. We are still going to participate in a small committee to the inauguration of the new social center of the CTSE.

At

Nepal

Only one case of infection has been reported. Schools have also just closed. Gatherings are forbidden. The country has decided to limit entry into the country: it is necessary to pass a health test and remain confined for 14 days before being able to move freely. In addition, the country no longer allows expeditions to Everest. 

Our team is now on tele-work. The Maternelle de l'Espoir will close temporarily tomorrow. We are trying to set up child care in mini-groups for single mothers with no other solution than to go to work. Home visits to families in Dhading are limited to urgent cases.

At

Cambodia

,

 

Here again, there are few infected patients. This raises questions about the ability to identify them. The government has just advised schools to close. But no directives have been imposed. On the other hand, the borders are closed to a certain number of countries said to be at risk.

At

Burkina Faso

,

 the situation is deteriorating with the number of infected people increasing. The state has not declared a full lockdown but has closed schools for 15 days and our team has gone into telecommuting.
For all countries, even when it is not imposed, we reduce or even stop activities that bring people together to avoid aggravating the contamination. 
In our four countries of intervention, we are very concerned about the consequences for the already very vulnerable populations. The health services are not strong enough to cope with a large influx of patients. Hospitals are far from the homes of the most marginalized families.
From an economic point of view: what will happen to families who already have so little if they can no longer get to work?
We know that the situation is also complicated for many of you here in France.
This virus has no borders, solidarity has no borders either.
More than ever we need your help to face this situation by preparing today for the return to normalcy → MAKE A DONATION.
Thank you in advance for your support.

Véronique Jenn-Treyer
Director of Planète Enfants & Développement
March 17, 2020