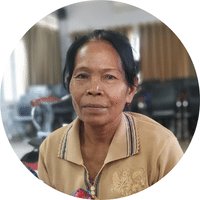 Planète Enfants & Développement is preparing to open its first 4 crèches in villages of Kampong Speu and Kampong Cham in Cambodia at the end of April. We met Sakhan, recruited as educator and director of the crèche in the village of Cham Bok.
Sakhan, what was your situation before being recruited as a daycare director?
I am 65 years old and I was retired! I was an elementary school teacher for 40 years. And lately, I was taking care of my 3 grandchildren. But I felt that I was still able to work and I still want to be of service in the field of education. So I asked about the project in my town and applied. Then I took the test and I passed it, I became a nursery director!
You have just completed a training course with the association to prepare you for your role as a childcare worker and director. How is this training useful to you?
On a personal level, it is very exciting to gain new knowledge.
Professionally, I have learned a lot from this training to organize the nursery, to adapt the activities to the developmental stage of the children, to provide healthy and balanced meals, ... I will use this knowledge to make the children and the educators happy to be there by working 100% with my heart.
What will the crèche change for parents and children in your village?
I think it will change the way children are cared for. The educators in the project are trained to help children develop their 5 senses and prepare for preschool. And the parents will have more peace of mind when they are at work. Most of the people in my community know me very well since I was a teacher and they already wanted me to take care of their children. 10 children are already enrolled in my nursery!
> Learn more about our project to open cribs in villages in Cambodia