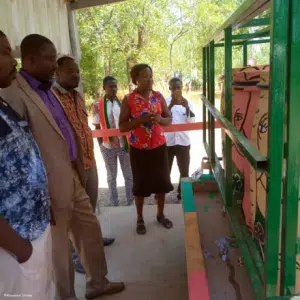 More than 1,600 people gathered from November 26 to 29 to inaugurate the "Mémoire d'Eléphants" program set up in four schools in Burkina Faso.
Students, parents, but also the mayors of the communes, local elected officials and members of the Ministry of Education: all had gathered at the invitation of Planète Enfants & Développement in the schools Diabo D, Tigba A, Sainte Thérèse, Fada sector 11 A to inaugurate the device.
During these days, schoolchildren performed handwashing-themed skits, and a variety of games and quizzes were used to raise awareness.
In Burkina Faso, only 48% of schools have access to drinking water, and only 39% have sanitation facilities!
However, it is essential to educate children from an early age on good hygiene practices to curb preventable diseases.
90% of infections would be transmitted by hands!!!
Implemented by Planète Enfants & Développement and funded by UNICEF, the project is taking place in the Gourma province, in the eastern region of Burkina Faso. It aims to raise awareness among children in schools about handwashing on a daily basis.
> To learn more about the project, click here
December 2019