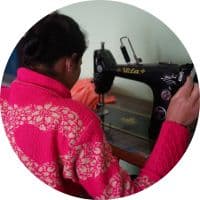 My name is Susmita and I am 24 years old. I am married, I have a son and a daughter and I am a housewife. Without any education, I quickly encountered difficulties in my life. Financial problems but also health problems with long depressions.
Before I had my children, I worked in a dohori [a singing and dancing salon... but I had to stop because I didn't have enough time. I finally met the Chhori association through one of the beneficiaries of the Pariwartan social center. And then I had the chance to benefit from a psycho-social follow-up, but also to participate in personal development sessions.
It was through this that I was able to learn how to sew. I took classes for 3 and a half months, 4 hours a day, 5 days a week. I had the possibility of training in other fields but I chose sewing because I could come to the sessions with my children. I could see myself doing well in this field too.
Before doing this training, I had no skills. Now I am able to do things by myself and even for myself if I want to. I know how to use the material, I feel stronger. When I'm at home, I spend a lot of time thinking, it makes me anxious. I have had many suicidal thoughts. But when I use the sewing machine, it's almost meditative, I don't think about anything, I'm more peaceful.
I would now like to work in a sewing workshop to gain experience and save some money. Later, I would like to open my own workshop in Kathmandu. And then after that, I would like to open a workshop in my home village and relocate there, close to my family, in an environment that I love.