This month, we introduce you to Apollinaire Santi, Administrative and Financial Officer with our team in Burkina Faso for 15 years!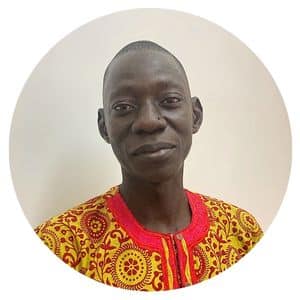 Apollinaire, tell us a little about yourself...
I am a Burkinabè, born in the capital Ouagadougou.
I am trained as an office and liaison officer. But I'll tell you a secret: before joining Planète Enfants & Développement, I wanted to join the army because I liked the military uniform and the red beret!
Do you like/dislike...?
I like work well done, I am rigorous.
I like to feel that I belong, that I am useful and recognized.
What I don't like is being lazy or doing things out of obligation and not out of pleasure.
And what drives me in my work is the enthusiasm, the motivation and the good mood of my colleagues every day.
What is your history with Planète Enfants & Développement?
Our story began in 2008, on September 15 precisely, with Enfants & Développement at the time. The premises were located in the Wentenga district, not far from the cinema.
My office consisted of a small table, a landline phone and a visit book! Things have changed a lot since then.
Today, on a daily basis, I listen, I answer, I punch, I paste, I number, I file, I calculate, I enter! More seriously, I receive phone calls, I welcome visitors, I process mail, I manage the cash register, I take care of estimates, I pay invoices, I enter accounting entries and file documents, etc. In short, I provide secretarial services and assist in accounting, financial and administrative management in Burkina Faso.
Do you have a dream to share with us?
My greatest dream is that peace will return to Burkina Faso and that there will be many projects to help the poorest, especially in this context of massive displacement of populations.