The Nepalese teenagers from the Chepang ethnic group, welcomed in the boarding school we built in 2021, participated in a 3-day training on their menstrual cycle and puberty, with a main objective: to make them stronger and proud to be women, in a country where menstruation is still a taboo and discriminations are deeply rooted
" These 3 days with the Chepang teenagers were very intense. Beyond the information that our partner Chhori gave them on the transformation of their bodies, there was a moment of sharing and benevolence. Many of these girls, who live in very remote rural areas where patriarchal traditions dominate, felt listened to for the first time in their lives. The exchanges were very strong and moving. "explains Maya Verbist, Planète Enfants & Développement's Nepal Director.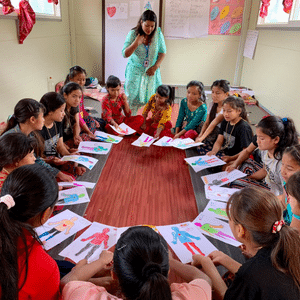 Due to beliefs and superstitions about menstruation, many girls and women are victims of violence, discrimination and have even lost their lives in Nepal. Considered as impure at the time of their menstruation, many of them have undergone Chaupadi. This tradition requires women to isolate themselves outside the house during their menstruation and not to touch anything. Although forbidden by Nepalese law since 2005, it is still practiced in some regions.
And these years of tradition have left their mark on the current generations. Girls still feel unequal to boys and even blame themselves for being born a girl.
 With this training proposed by Chhori, we wanted to inform them about the stages of the menstrual cycle, help them understand the physical and hormonal changes they experience, empower them, strengthen their emotional and mental strength, and make them aware of their creative power as women.
Writing, art and creative workshops, meditation and relaxation exercises, story sharing and conversations, the different methods used also gave Chhori the opportunity to assess the girls' well-being and to offer psycho-social follow-up sessions to those who needed it most.