As we prepare to open 5 new day care centers in villages of Kampong Speu and Kampong Cham in Cambodia, our team and the local authorities have just completed the training of 20 childcare workers who will work in these establishments with children.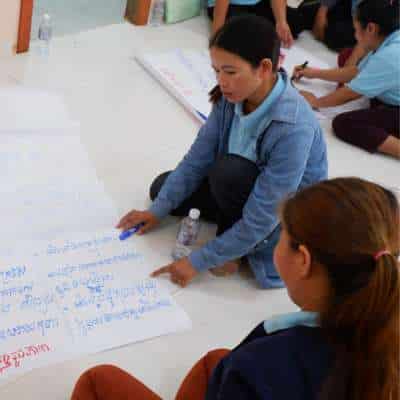 " It is fortunate that Planète Enfants & Développement is developing daycare centers that reduce the hassle for families to care for their children while they work. I have known parents who have had to stop their contracts to care for their youngest.
I used to be an accountant in a textile factory. Now, with this opportunity, I am changing my life. I am very proud to join this new team of educators ". Sum Phalla, Manager of a daycare center.
Sum is one of 20 early childhood assistants who attended 15 days of theoretical training and 4 days of practical training in April, organized by our team in Cambodia in partnership with the Ministry of Education and the Heads of the Early Childhood Department of Kampong Speu and Kampong Cham. The training program included: child development and protection, care routines, first aid, learning through play, space management in day care centers, adaptation, financial and administrative management of an establishment and monitoring/evaluation.
The opening will take place in two stages: May 9 and 10 for the first two crèches and then at the end of May/beginning of June for the other three. To date, we already have 70 children registered.
At the same time, we are preparing to launch the construction of the last batch of 4 daycare centers, which will begin in June and be completed in September.
> Learn more about the project of crèches in villages in Cambodia.