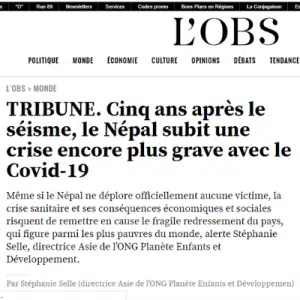 On April 25, 2015, a 7.9-magnitude earthquake and its aftershocks affected 8 million people in Nepal and killed more than 9,000. Paradoxically, these earthquakes had accelerated the political and administrative transformation of the country, portending a different tomorrow. 5 years later, the Covid-19, even if it has not yet officially caused any deaths in Nepal, may mark a worrying halt to the slow progress of Nepal...
> Read the Opinion column by Stéphanie Selle on the Nouvelobs.com website (published on April 25, 2020)
Actions carried out by Planète Enfants & Développement following the 2015 earthquake: in addition to the immediately needed emergency aid, the funds allowed the distribution of basic necessities and food to 8600 people as well as the psychological follow-up of more than 2000 people in the Nuwakot district directly affected by the earthquake. More than 4,000 children have been accommodated in temporary school spaces and 160 peasant households have been supported (tools, livestock, seeds, etc.). Finally, 40 women and children who were victims of violence or trafficking were identified and accompanied.
April 25, 2020