A dozen women from the Pariwartan social center in Kathmandu benefited from an art therapy session on September 13 in Nepal.
This art therapy workshop, on the theme of meditation and somatic experimentation (better known as Somatic Experiencing), was designed to help them release their tensions, for a moment away from their everyday difficulties.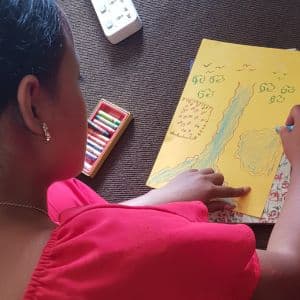 The workshop leader invited participants to use paper, felt-tip pens and chalk to draw the place where they imagined they would feel safe during the meditation time she had guided beforehand. They were then able to put words to their drawings and express their feelings.
" I really enjoyed picturing my dream home and family. I was transported to another place and felt more peaceful during the workshop. I seemed to forget my problems... "confides Reeya (first name changed).