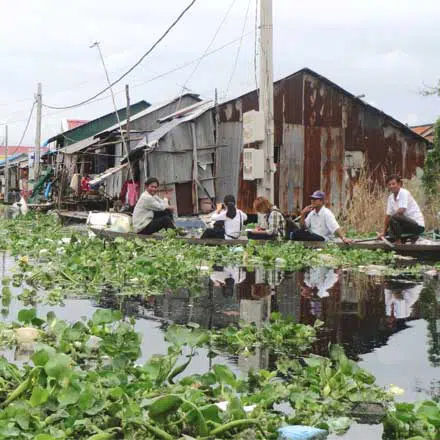 Always at the side of vulnerable families, with our local partners SKO and Habitat For Humanity, we start this week the Renovation of 6 houses in a precarious neighborhood along Boeung Tumpun Lake in Phnom Penh. The neighborhood is built on a strip of land that sinks into this large lake. 70% of the inhabitants have lived there for decades and live from the sales of vegetables that they grow on the water. With the pollution of the lake, the harvests are increasingly weak and the incomes decrease. The life of these families is very hard.
The work will take about ten days. At the same time, we are going to launch drainage works in two streets of the city to improve the absorption of rainwater by the soil. These drains will allow residents to avoid seeing their streets flooded.
Our goal in 2019 The project aims to support the renovation of 50 houses in the slums of Phnom Penh, finance hygiene and sanitation projects to limit flooding in the neighborhoods, train communities in drainage techniques, and provide social support for the most vulnerable families.
May 27, 2019