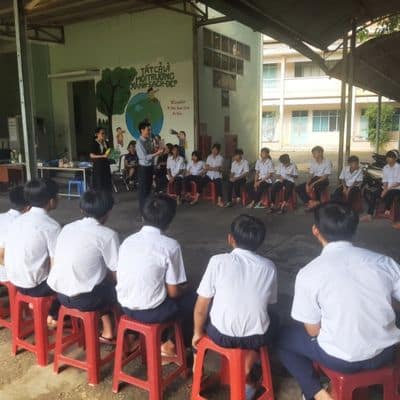 In mid-November, we organized a session on children's rights with 30 teenagers who are victims or at high risk of human trafficking, hosted in the shelter of the CTSE, the Social Work Center for Children in Ho Chi Minh City, Vietnam.
"These teenagers live at the shelter full time until the age of 16. Some have become street children and have been taken in by the police. Others are orphans, left to fend for themselves or young criminals. They all have in common that they have been through a lot.
The next group session, which takes place tomorrow, will focus on the topic of personal budgeting, with a group of 13 teenage victims of human trafficking and 2 high-risk children.
These sessions are part of a program of collective and individual accompaniment of these young people from 13 to 15 years old by our social worker Trang, to give them back their confidence and prepare them for their entry into adult life since they have to leave the CSTE shelter at 16 years old according to Vietnamese regulations (and children who do not have an official birthday are considered to be 16 years old on January 1st).