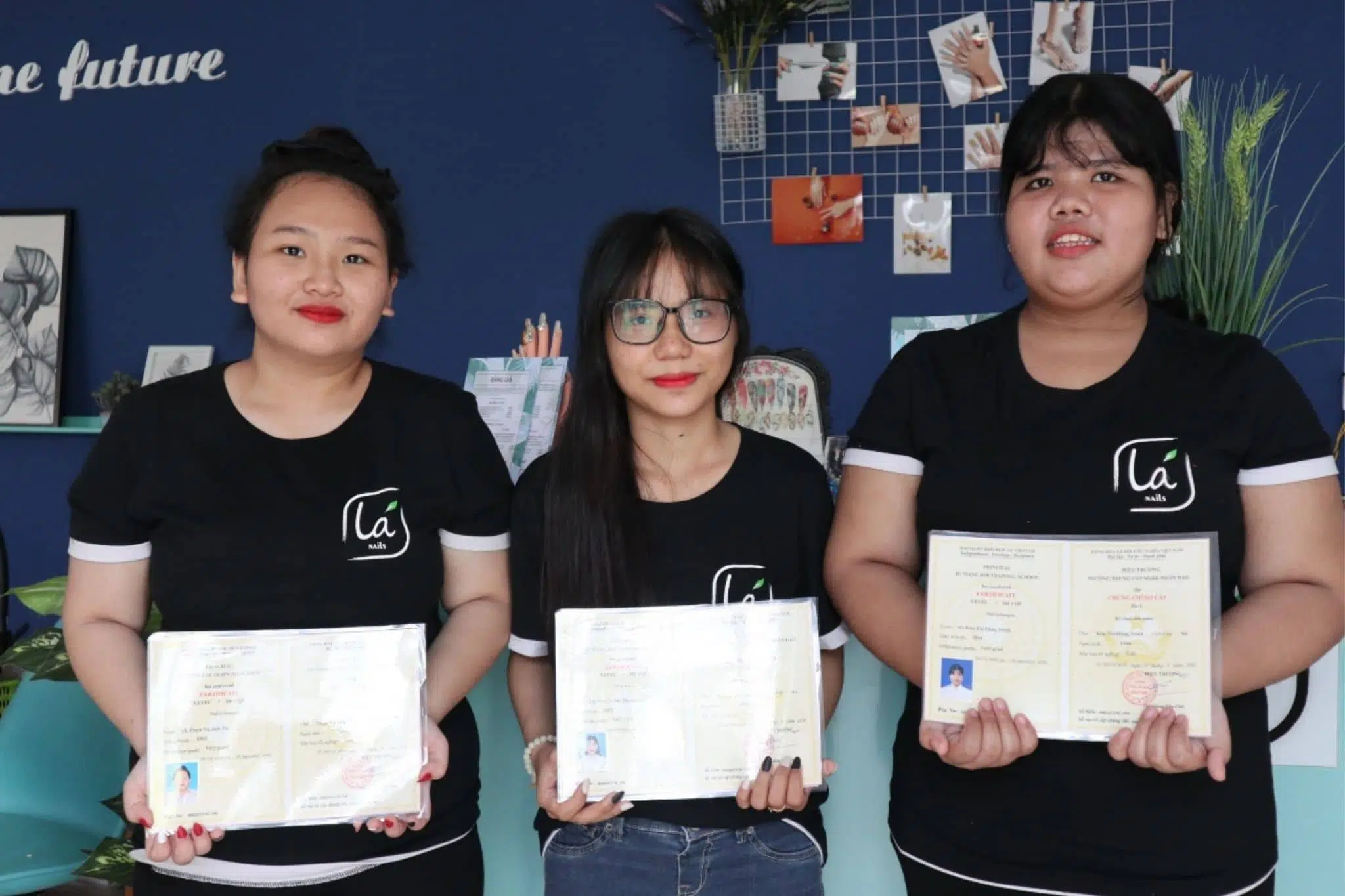  Socio-professional integration    2014-2020 
Socio-professional integration of marginalized youth
Vietnam's strong economic growth in recent years hides the reality of growing inequalities. Many young people, from poor families, find themselves on the roadside, sometimes alone, without a diploma and without work.
1 million young people enter the labor market in Vietnam every year.
But most companies see a gap between the degrees and the job skills required.
According to the Ministries of Education (MOET) and Labor (MOLISA), the lack of qualification of young people is one of the main causes of unemployment.
Vocational training centers exist, but they do not necessarily have the capacity to adapt their pedagogy in depth to vulnerable youth, nor to provide quality guidance or even less social support. 
In the economic capital of the country where we operate, Ho Chi Minh City, young internal migrants who have fled the country's countryside are the first victims of this situation. 
40% of the young people in training in our partners' centers were dropping out of their current program.
How is your donation used?
For every 100€ collected by Planète Enfants & Développement, 85€ are dedicated to our social mission.
Our projects are evaluated by independent firms. And our accounts are audited and certified each year by KPMG.
million young people enter the labour market each year
of graduates of 1st cycle higher education
of companies report a shortage of workers with sufficient cognitive, technical and socio-behavioral skills
Between 2017 and 2020,Planète Enfants & Développement has collaborated with the Nhan Dao and Hung Vuong vocational training centers in Ho Chi Minh City to :
support teachers in monitoring students 

assist vulnerable students in their choice of study and learning

to stop these young people in precarious situations from dropping out of school.
The evaluation of the project carried out by the independent firm Archipel & Co in 2020 indicates that "PE&D has strengthened the capacities of the professors, the members of the Student Affairs Department, and a Social Worker" and notes positive effects on the beneficiaries in terms of self-confidence, professional perspectives and thirst for learning.
Over the last three years, we have accompanied 328 young people in their professional integration. 105 of them received specific social support. 
Each of them was able to take the RIASEC career orientation test (to highlight their profile). Thanks to a network of partner companies, many young people were able to enter training or find a job. 
Thanks to the training sessions provided to 288 educators on the methodology of family support adapted to vulnerable youth, the staff of the training centers are now able to implement the activities themselves, and to monitor and evaluate the results with these youth.
Lá Nails , a nail salon for students in training
Opened in 2018 in collaboration with the Nhan Dao Vocational Training Center in Ho Chi Minh City's District 3, this social enterprise allows students to train in nail care, study English, and acquire "life and soft skills." The students, underprivileged young people from HCMC and its surroundings, practice their future profession in a real situation, which allows them to acquire a first professional experience.
Vietnam: Protecting trafficked children
Vietnam: More quality childcare for young children
Hy Vong: Let's fight violence against women
Vietnam: Supporting families in distress in Ho Chi Minh
Vietnam: The Imagine Project for Better Living Together
"It was the local administrative officer who told me about Lá Nails. I was looking for a part-time job to continue my studies. My parents have passed away and I live with my grandmother. I like manicuring, I think it suits me. But my favorite thing is English classes. Later on, I would like to further my education."
Ngoc, 15 years old
Our partners in the field
Hung Vuong - Public vocational training center specialized in technical training: air conditioning system installation, car repair, cell phone repair, etc. Hung Vuong has partnered with PE&D since 2014 to implement work-study training sessions on refrigeration systems.
Nhan Dao :
public vocational training center specialized in aesthetics: hairdressing, nail care, etc. Nhan Dao and PE&D have been working together since 2013 to adapt the training offer to the demand of companies.
European Institute for Cooperation and Development (IECD) - NGO collaborating with PE&D in the development of complementary solutions for vocational training and entrepreneurship support.