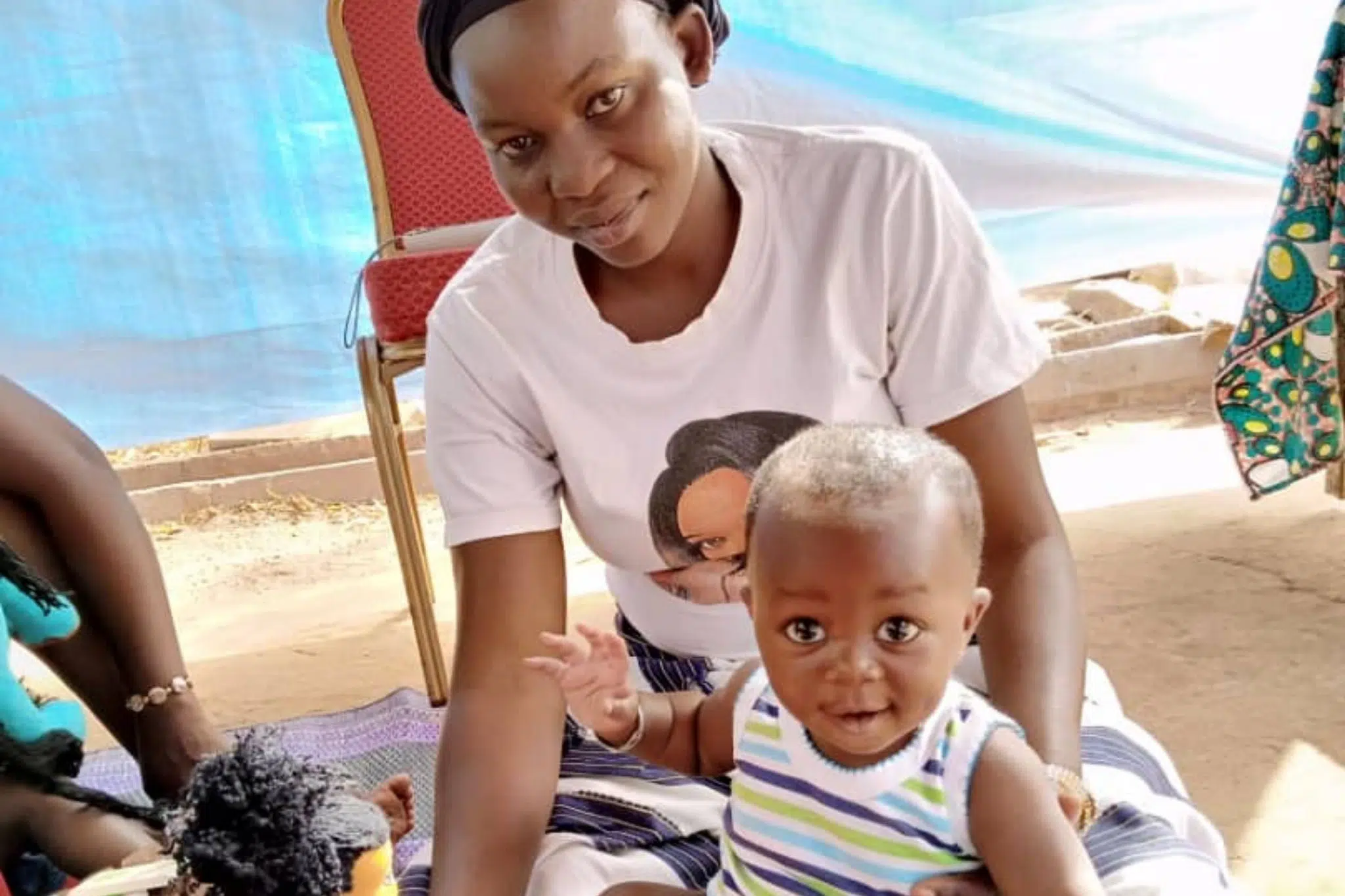  Early Childhood Development | Socio-Professional Integration  2018-2021
The job of a childminder: for the development of children
In response to the lack of quality childcare facilities for children under the age of 3 and the problem of unemployment that particularly affects women and young people, since 2018 we have developed a state-recognized training program leading to a diploma in the profession of childminder.
In Burkina Faso, as in our other countries of intervention, societies are changing. 
Women work outside the home, families are more broken up, traditional models are questioned.
Parents have ambitions for their children. We are seeing a growing demand for professional childcare for toddlers. 
To provide a framework for the development and education of children in Burkina Faso, from 3 to 36 months, the State has recently adopted legislation.
But in reality, public crèches are very rare, and until recently there was no specific professional training for childminders, for example. 
In Yatenga, a poor province in the north of the country, unemployment has reached 60% and particularly affects women.
The insecurity in this area, with the threat of terrorism, does not favor the emancipation of young girls and mothers either.
How is your donation used?
For every 100€ collected by Planète Enfants & Développement, 85€ are dedicated to our social mission.
Our projects are evaluated by independent firms. And our accounts are audited and certified each year by KPMG.
of business owners are women
the only public crèche in Ouagadougou
For Planète Enfants & Développement, Protecting and awakening young children is a priority in the fight against inequalities from the earliest age. 
To meet the demand for childcare in Burkina Faso, to ensure their safety, health and awareness, but also to give women an opportunity to train, to undertake or to have a qualified job, we have created a training program for childminders in partnership with three local associations: APEJEF, AFEDEB and AGB. 
The women who benefit from the training program are between the ages of 18 and 35 and are selected based on their motivation and vulnerability criteria (single mothers, divorced or widowed, forcibly displaced by the threat of terrorism, underemployed, not in school or failing to complete their education).
This project has several components: 
Definition and validation of the profession of childminder with the Burkinabe Ministries (INFTS and Ministries of Youth and Promotion of Youth Entrepreneurship).
Creation of 15 modules of theoretical training with French and Burkinabe experts, validated by a scientific committee and which lead to a state-approved diploma (Basic Qualification Certificate, BQC). 
Example of modules: design and equipment of daycare centers to create a healthy and secure space, care and feeding of children, early learning activities through play, entrepreneurship and development of its daycare center (in collaboration with Entrepreneurs du Monde) ...
Training of a pool of trainers for this program, composed of technicians from the Ministries in charge of Social Action and Youth. They are in charge of deploying the training.
Follow-up of women in training for one year 3-month practical training
Accompaniment of women in their professional integration (creation of micro-nurseries or integration of existing childcare facilities).
Between 2018 and 2021, we are training and coaching 300 women in the northern province of Yatenga and in Ouagadougou.
At the same time, we are supporting a local association, the Association des Gardes-Bébés (AGB), to improve the layout, pedagogy and management of its private crèche, which currently accommodates 15 children and whose beneficiaries are mostly girl-mothers who attend school. This social day care center, also known as the "application" day care center, will be an opportunity to highlight the benefits of an adapted and professional approach to toddlers.
Burkina-Faso: Support for parenthood
Burkina-Faso: Improving early learning for children aged 3 to 6
Burkina Faso: Preschool educators trained
Burkina Faso: Improving hygiene in schools
"The best part is knowing that the support is continuing and that we will not be left to our own devices after the certification. We are very happy because several women will get out of misery". 
Marie-Cécile, training beneficiary
Our partners in the field
Entrepreneurs of the World (EdM)
Esther Vision Association (EV)
Diocesan Savings and Credit Cooperative
Association for the Promotion of the Education of Young Children in Faso (APEJEF),
Association Féminine pour le Développement du Burkina (AFEDEB)
United Women for Development Association (ASFUD)