Meet Trang Dang this month, a social worker who works with children and families in our anti-trafficking project in Vietnam.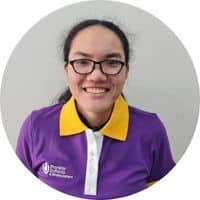 Trang, can you introduce yourself in a few words?
With pleasure! My name is Trang Dang, I am 28 years old and I come from Hanoi, the capital of Vietnam. I have a Bachelor's degree in Social Work and a Master's degree in Child and Adolescent Clinical Psychology. Before joining Planète Enfants & Développement, I worked as a social worker with street children and children in crisis at the Blue Dragon Children's Foundation (BDCF).
How did you meet Planète Enfants & Développement and what is your role in the association?
I have been working at Planète Enfants & Développement for 1 year. I answered a job offer posted on Facebook and my profile seduced the team.
As a social worker, I provide psychosocial follow-up to families in great difficulty in order to break the cycle that leads to trafficking or child labor (counseling, home visits, referrals to specialized service providers), I accompany trafficked or exploited children in a process of reintegration into their families and society, I lead prevention sessions on trafficking, I also organize training sessions for social workers of our local partners and set up a network of partners and providers in Ho Chi Minh City.
Any difficulties or satisfactions in your work?
It is not always easy to be everywhere! I do a lot of home visits and Ho Chi Minh City (HCMC) is a big city: the children and their families live in different districts and even in the provinces. But it is necessary to keep in touch with them.
Among my greatest joys is gaining the trust of the children. When they are willing to open up to me to overcome obstacles, we take a big step together. I also feel relief when we find a new safe shelter for 16-year-olds who are alone and forced to leave the HCMC shelter because they have reached the legal age limit and can no longer stay there. Finally, the creation of the network to accommodate youth in vocational training and allow them to bounce back is also a great satisfaction.
I hope that my experience will help many children to find a little bit of carefree, normal life and build a good future.