The health benefits of handwashing are well established, but how do you get young children to learn this reflex when awareness campaigns are not successful?
This is the objective of the playful device that we are experimenting with in elementary school in Burkina Faso.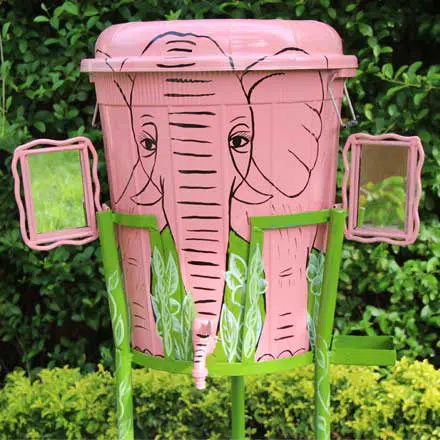 In Burkina Faso, the elephant is associated with memory, wisdom, longevity, prosperity and benevolence. Moreover, it likes to play in water! Known to all children, very represented in African tales, it is at the heart of this device.
An elephant's foot path connects the latrine to the canteen, passing through the washing point. The traditional water tank is an elephant head, the water comes out of the trunk and the ears are mirrors! The children will choose the colors and will be involved in the making and painting of the different elements.
The goal is to instill the habit of handwashing in little schoolchildren by turning a daily chore into a fun routine around a colorful game.
This pilot project, which will start very soon, is installed in 10 elementary school in the province of Gourma, in the east of the country, and involves 3,600 students, 54 educational staff and about 7,200 parents, for one year.
We will study precisely the impact of the device on handwashing with soap at critical times of the day and improve the prototypes in light of the experience. If the results are positive, the device could be deployed, with financial support from UNICEF, throughout the country.