In October 2021, 31 donors believed in this project at the our evening of generosity. 19 months later, our team in Vietnam is proud to announce that 89 childminders have completed 8 months of training with us. We were delighted to invite them to a graduation ceremony on May 21 in Ho Chi Minh City, attended by representatives of the ministries and departments involved.
We are facing a shortage of qualified childcare assistants, trained in accredited institutions. This problem is particularly acute in private kindergartens and home-based childcare groups, where there are no strict regulations. Sometimes people illegally provide home-based childcare services without proper authorization. Such practices are common in suburbs with a high concentration of blue-collar and manual workers.
The training program offered by Planète Enfants & Développement provides a practical response, with teaching adapted to the different levels of childminders. The association's trainers showed great enthusiasm and actively supported them in their respective establishments. They made regular visits, offering encouragement and advice to ensure the effective application of the knowledge acquired during the courses.
Of the 121 trainees enrolled in the program, 89 have gone all the way and graduated.
Over time, we have measured and noted the progress made: whereas at the 4th training session, only 64% of them showed their ability to apply the knowledge they had learned, by the 15th session this rate had risen to almost 100%.
We also noted a change in behavior with the children, characterized by greater empathy, interactive communication and the creation of an environment conducive to awakening and learning.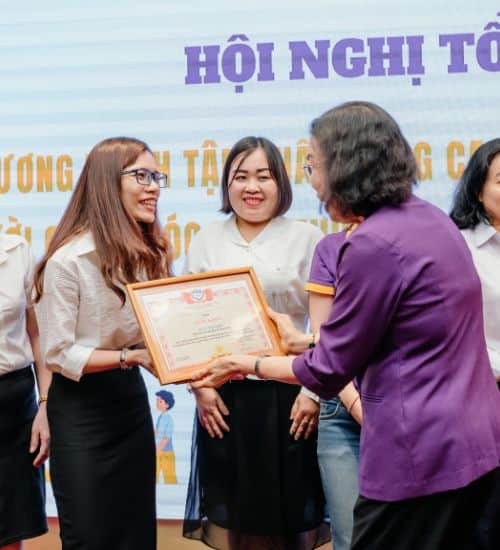 Nursery assistants have largely put into practice the advice given on how to set up spaces in the establishments to encourage children's exploration and creativity with a variety of toys.
The children observed express their emotions more, are more willing to try new things and are more confident.
In all, more than 3,200 children enrolled in the 64 training establishments in Thu Duc and Tan Phu benefit from improved care.
We're now looking forward to training a 2nd class!