Message from Stéphanie Selle, Director of Planète Enfants & Développement in Nepalabout the Covid-19 in Nepal: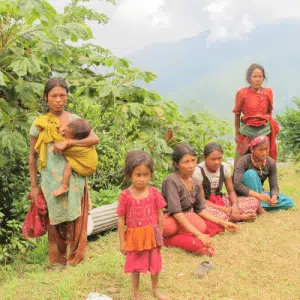 "We are very worried about the ChepangsWe have been working with this very poor and isolated ethnic group of about 50,000 inhabitants for several years.
Nepal has just imposed the confinement this Tuesday, March 24. Many Nepalese who had migrated from the countryside to Kathmandu are now leaving the city and going to remote areas like Dadhing, the district where the Chepangs live.
The Nepalese government has launched a major information campaign on Covid-19 to encourage people to do the right thing. But it may not reaching the most marginalized castes. Why? Because it is not translated into all the languages spoken in the country.
With Prayas Nepalour partner on site, we are therefore setting up an information plan on Covid-19 for the Chepangs to limit the spread of the virus in this very vulnerable community where hospitals are sometimes located several hours away. This means that it will be impossible to get emergency treatment.
We need your support for translate national radio spots into Chepang languagecreate new spots dedicated to the protection of children and disseminate them.
I imagine that the situation is also complicated for many of you, with many uncertainties. And I thank you for what you are already doing on our side. But if you can, even a few euros will help those who are forgotten.
Thank you in advance, Stephanie "

If your donations exceed the amount needed for these activities, we will use them for other priority projects for children and their families.
March 25, 2020