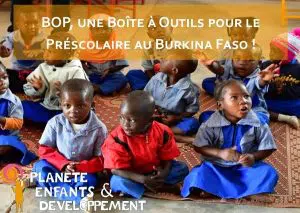 The importance of early childhood education in the development of young children and their future success has been proven time and again by professionals in the field. This stage of a child's development is key to a country's development. Now, Burkina Faso is ranked 185th (out of 188 countries ranked) with regard to the Human Development Index.
In Burkina Faso, only 3.5% of children aged 3 to 6 years are receiving this educationThere are great disparities between urban and rural areas. Since 2011, Planète Enfants & Développement has been committed to providing access to quality pre-school education in Burkina Faso through the construction of pre-schools, teacher training and the development of educational games and toys.
A few days ago, in partnership with local associations, we have launched an innovative system, available on the Internet, for preschool actors, but also for parents or institutional actors: the BOP, "Preschool Toolbox".. The BOP provides documentation, which is still not widely available in Burkina Faso, to its visitors. It also offers preschool professionals numerous "idea sheets", divided by theme, to help them implement their activities in the classroom. Finally, it is a collaborative platform that allows the different actors to exchange and ask any questions that seem relevant.