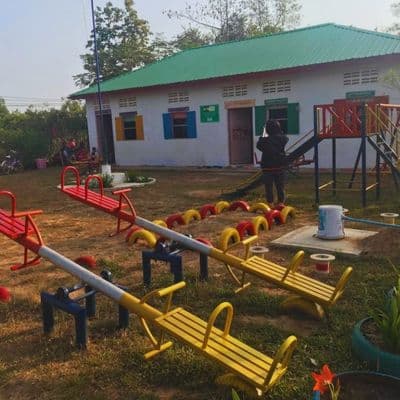 Stephanie Selle, our Director in Cambodia, went to visit 8 communal preschools that the association built in 2018 in the Kampot region.
What can we say about these schools 5 years later?
"I was pleased to see that the buildings are still in good condition. Only a few swings in the playgrounds need to be repaired. The communes maintain their schools well, the classrooms are clean, which is very good news.
We are also pleased to note that all the teachers we trained have remained in their positions, are involved and are paid honorably compared to the sector average. As a result of the project, the state standardized the 8 schools involved, which has had the effect of increasing the teachers' salaries. They receive about US$170 from the Ministry and between US$100 and US$150 from their commune.
It is important to remember that before the project, there were no kindergartens in these villages. The communes have made the effort to release a budget and to build a management plan for their schools. This shows a real willingness to invest in the development of early childhood.
The schools currently have 24 to 45 students. One of them, with 80 children, has 2 classes: one in the morning and the other in the afternoon.
Parents are therefore motivated to enroll their children in the kindergarten. The number of children is sometimes too high and the school management committees would be ready to pay for another teacher if there was an additional building!
Areas for improvement? The children still lack a bit of equipment and freedom of movement to encourage discovery and autonomy. But what I have seen is really encouraging."
This project entitled ECRC2 took place between 2016 and 2019 with the support of 14 schools in 20 villages in the Kampot region.