Despite very heavy rains last month that complicated the work, we are completing -finally- the construction of 2 schools demolished by the 2015 earthquake. Brand new, earthquake-resistant buildings will be able to accommodate 460 primary school students at the start of the school year in May 2019.
Next step: vegetable gardens, for educational and nutritional purposes!
In 2015, Nepal was hit by a terrible tragedy: an earthquake with a magnitude of 7.8 affecting 8 million Nepalese and claiming nearly 9000 victims in the Kathmandu valley and several neighboring districts.
In Nuwakot District, where we immediately mobilized, the April 25 and May 12, 2015 earthquakes affected more than half of the population and partially or completely destroyed 51 schools. With the help of our local partners and many donations, our priority has been to ensure the safety of the children by creating temporary school spaces, strengthening teaching methods and identifying victims of violence and exploitation.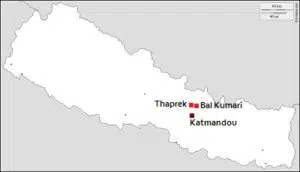 The progress of the reconstruction may seem slow, but it must be put in perspective with the reality of the field. The enormous need for materials and manpower, the difficulties of access to the building sites, the floods, have slowed down the work of the associations enormously.
In addition, the country adopted a new constitution in 2015, making Nepal a federal state, which has delayed the issuance of building permits. Other actors invested in Nepal's reconstruction process have chosen to bypass the permits, but we are committed to following the guidelines set by the authorities. Our collaboration with the local political authorities is indeed a determining factor for the sustainability of our actions.
Since the last elections in 2017, the return of a certain political stability has allowed the administrative machine to be restarted, and the construction work could begin.
Finally, in order to reduce the vulnerability of families to violence and natural disasters, awareness sessions on environmental risks and the risks of child exploitation continue to be conducted.
Little by little, the Nepalese are recovering from this tragedy. Thanks to our actions, thanks to your donations, they are taking the long road of development of their country.
Thank you for supporting them, thank you for accompanying them!
April 2019