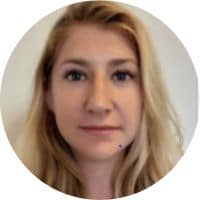 This month, we introduce you to Cassandra Fallon, coordinator of the anti-child trafficking project in Vietnam. She tells us about her journey, from her beginnings as an English teacher to the field with the association. 
Cassandra, tell us who you are!
My name is Cassandra Fallon, I am 32 years old. I was born in the Middle East but spent my childhood in England, the United States, Poland and Dubai, depending on where my father worked. We moved to Scotland when I was 12 and I lived there until I was 24.
I have been living in Vietnam for 8 years. I came here for a vacation, but I liked the country so much that I never left. When I first came here, I was teaching English. I was really passionate about women's rights so I did some volunteer work in Hanoi. After a few years as a teacher, I finally had the opportunity to run my own ESL center in Da Nang, but unfortunately the pandemic hit and the center closed a few months later.
In the end, I would say it's an opportunity. I always knew I wanted to work in the development field: it was now or never. So I packed my bags and moved to Ho Chi Minh City with my dog to work with Planète Enfants & Développement.
And now you are a project coordinator, right?
Yes, that's right! I have been working with PE&D for two and a half years now. I started working on the Hy Vong projecta project that I was passionate about. I grew up in a home where domestic violence was rampant, so I could understand the difficulties of all these women. When PE&D Vietnam launched the Protection and reintegration of child victims of trafficking project and I was offered the role of project coordinator, it was another really exciting opportunity to learn how I could help change people's lives. My favorite part of my job is being in the field and meeting directly with the beneficiaries. I know it's a cliché, but it's really what motivates me.
What were your biggest challenges?
My biggest challenges .... The language barrier can make things frustrating, but I am fortunate to have a great team that helps me overcome this, in addition to all the other tasks they do so well!
The bureaucracy in Vietnam is quite amazing, there are dozens of forms to fill for absolutely everything! But it's really worth it when you see the changes that Planète Enfants & Développement brings in the life of Vietnamese people.