Yatenga, a poor province in the north of Burkina Faso, is not exactly an employment area, especially for women...
The recent insecurity in this area, which is close to the jihadist threat, does not favor the emancipation of young girls and mothers either.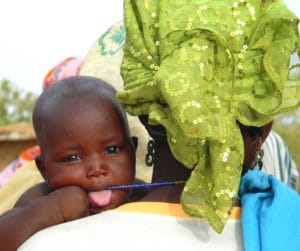 Based on our experience in the country and the relationships we have established with the authorities, in particular with the Ministry of Women, National Solidarity and the Family, to which the National Institute for Training in Social Work (INSTS) is attached, we have chosen this region, and particularly the town of Ouahigouya, to develop a training program for maternal assistants, in partnership with a Burkinabe association.
This action has the virtue of benefiting several categories of people. First and foremost, it will offer professional training to 150 women who have no qualifications and sometimes can barely read and write, by giving them the tools to set up a mini nursery (2 to 4 children) in their homes as "self-entrepreneurs" or as employees of a childcare facility. This training will lead to a state-recognized certification, authorizing the exercise of this profession.
The creation of this childcare offer will also benefit, of course, mothers of children under three, who will be able to access economic opportunities to emancipate themselves and realize their full potential.
And of course, the children themselves will be cared for by qualified staff, in a calm environment that is conducive to play and thus to awakening and development.
From a global point of view, our partnership with INSTS will facilitate the dissemination of this childcare training to as many people as possible throughout the country.
Equal opportunities + support for threatened populations + professional insertion + stimulation of young children: once this ambitious program has achieved its objectives, all that will be left for us to do is to take it to another region!