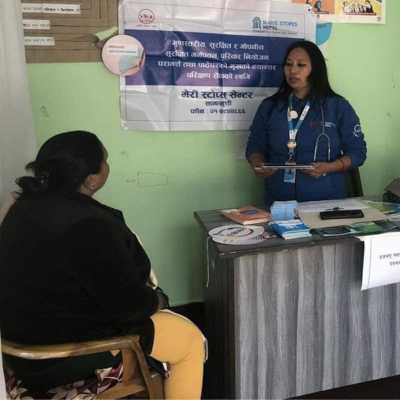 "The first time I got my period, I had no idea what was happening to me. I was really scared. I was finally taken to a place a little away from home until it passed," Rita.
Rita is one of the many women who are victims of the chaupadi* tradition, which is illegal in Nepal. She is also one of the 19 young women who took part in an awareness-raising session on menstruation on June 1, organized at our Pariwartan social center by Chhori and Marie Stopes International, an association promoting sexual and reproductive health.
During this day of information and exchange, the team introduced the participants to the menstrual process, but also talked with them about contraception, sexually transmitted diseases and Nepalese legislation on abortion. This special time was also an opportunity to answer all the questions that these young women are unable to ask freely in their daily lives.
This was the 7th day of health-oriented intervention offered by Chhori and Marie Stopes International since the opening of the Pariwartan social center.
An initial day on sexual and reproductive health was held in June 2022, followed by a day of free medical check-ups (HIV and cervical cancer screening, prescriptions and referrals to specialists) in November 2022, then 2 days of consultations in February 2023.
The women we support at the Pariwartan center, who are often exploited in prostitution networks, have neither the means, nor the time, nor sometimes the courage to take care of themselves. These free activities are organized in response to health problems frequently identified by social workers at the center.
* The practice of chaupadi consists of isolating Hindu women and forbidding them from many activities during their periods. Although declared illegal in 2015, the tradition persists in certain areas and has cost the lives of many Nepalese girls and women.