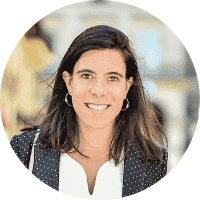 This month, let's meet Géraldine Massuelle, coordinator of our multi-country program for early childhood development. Discover her background, her missions and her challenges.
But by the way Geraldine, who are you?
I was born in Paris and grew up in the Paris region. Even as a child, I dreamed of faraway countries... After graduating from high school, I entered an international business school which allowed me to do half of my studies in Spain and England. I needed more...
At the end of my studies, I went to India. I went there as a volunteer for a 6 month mission and stayed for 10 years! 10 years of a very rich life during which I had the chance to occupy the position of Assistant Director of an Indo-Quebec NGO which offers academic and musical education to children from 6 years old in a school. I lived in this school alongside the children, and it was a pleasure to share their daily lives.
And if not, since 10 months, I am the mother of a little Hector, the most beautiful baby in the world!!!
What finally led you to Planète Enfants & Développement ?
When I returned from India, I joined the French Development Agency. After a few years at AFD, the desire to work again for an NGO in the field of children and education came back. The stakes are so high...
I had known Planète Enfants & Développement at AFD. When I saw the advertisement for the position I hold, I said to myself: this is for me!
I joined PE&D almost 2 years ago to coordinate a multi-country program that includes the majority of our Early Childhood projects.
Your mission today and your biggest challenges?
Our colleagues and partners in the field implement the activities with the beneficiaries and advocate with the government to shape the priorities for young children in each country. At headquarters, I am in regular contact with the project managers to generate experience sharing between the different countries, to work hand in hand with our local partners and to strengthen their capacities, to monitor activities, to report to the program's main donor (AFD), and to analyze result and impact indicators.
This program also aims to develop the association's international expertise in Early Childhood Development.
Neuroscience studies are unanimous: much is at stake before the age of 6! It is therefore essential to invest in this age group, which is still too neglected in many countries.
My greatest motivation is the testimonies of the parents, children, and early childhood professionals for and with whom we work and for whom we see the direct and positive impact of our actions.