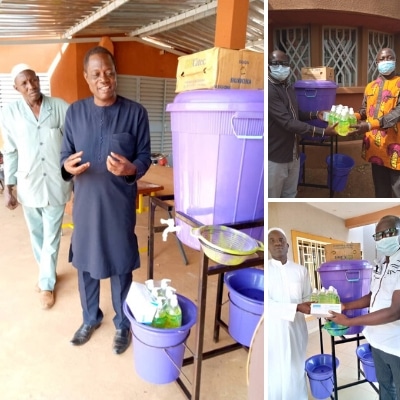 L'appui à nos partenaires locaux se poursuit en cette période de crise sanitaire et sociale. 
La semaine dernière, grâce à un financement de la Foundation of France, notre équipe au Burkina a pu distribuer du matériel d'hygiène à ses différents partenaires locaux : mairies, associations mais aussi directions régionales de la solidarité nationale, de la jeunesse et des affaires sociales.
Au total, 10 structures ont pu être équipées en masques, savons, gel hydroalcoolique et dispositifs de lavage des mains achetés à Ouahigouya pour faire fonctionner l'économie locale.
De quoi les aider à respecter les recommandations sanitaires alors que la pandémie est toujours bien présente : 959 cas and 53 décès liés au Covid-19 sont officiellement recensés à ce jour au Burkina Faso.
29 Juin 2020