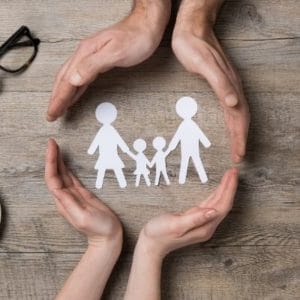 Mrs. L and her children, victims of a violent husband and father, found support from Planète Enfants & Développement and its partners in Vietnam. Let's take advantage of the International Day of Families to highlight their courage, their will and the commitment of our social workers to families in difficulty. 
The story of Mrs. L and her children
Ms. L is 46 years old. She grew up in Ho Chi Minh City in Vietnamin difficult conditions. Her husband, a cab driver, left her without giving any news for almost 9 years, leaving her single with 3 children who are now 11, 13 and 16 years old... Because of her religious beliefs, she did not seek a divorce. 
Very brave, she struggled to raise her children as best she could while working. She used to sell noodles on the street below her house but she didn't have many customers. She finally sold their house to get by and pay off her husband's debts. One day, he decided to come home from time to time... That's when he became violent towards her but also towards the children. It was too much. Mrs. L took her courage in both hands to warn the authorities: her husband had already fled, but now she was not alone.
Family support proposed by social workers
Alerted by the family's situation, our social workers realized several follow-up home visits. Quickly, we noticed the anguish of this mother and her children. They were afraid to stay home alone, to run into their father who had already hit them in the street. We listened to them, reassured them and put Mrs. L in touch with the SCDI, a local partner association and with the local authorities (the Women's Union of the neighborhood) to deal specifically with this problem of violence. They tried to meet the husband without success and put a alert, mutual aid and protection system in the neighborhood in case of recidivism in order to prevent Mrs. L and her children from being subjected to further violence. 
Thanks to a regular psychological follow-upMrs. L and her children who now have peace of mind. 
Thanks to the advice given by social workers and partner associations, Mrs. L turned to sewing to supplement her income. However, this was not enough to pay the school fees of her 3 children.
We then directed her to the associations Enfance Espoir Vietnam and TFCF which distribute to them food packages and school bursaries. 
Mrs. L and her children are now much happier and redouble their efforts to overcome their difficulties and move forward. 
The method of Family Support 
The method of Family Support consists of providing families with information and support in order to psychosocial support to help them solve their difficulties by themselves. 
During the 6 months of follow-upThe social workers do not provide any material assistance, but put families in touch with the social services best suited to the problems they face. 
With the support of social workers, families are taking trust improve their living conditions and regain their self-confidence. dignity. 
In parallel with the follow-up of families who have expressed a request, the social permanences are available in the social centers and offer advice and support to families in the neighborhood, even if they are not beneficiaries of the program. 
The program is proving to be very effective for two reasons: the good collaboration with local actors and the involvement of the families in their reconstruction. 
The motto of the Accompagnement Familial is not "to do instead of", but "make do with". 
To go further :
May 15, 2020