3 questions to Stéphanie Selle, Nepal Director of Planète Enfants & Développement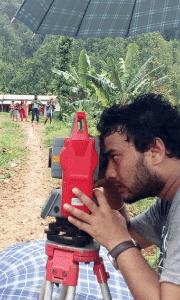 What is the status of the construction of the boarding school for Chepang girls?
Due to the strict confinement imposed in Nepal, the architect was only able to visit Gajuri in July, on the land where the home will be built. Thanks to this visit, he finalized the plans.
We launched the call for tenders to manufacturers on September 7. Despite the health situation and the restrictions in the country, we hope that the production of the modules will start in the factory in November, for an assembly at the beginning of 2021 on site.
What will this boarding school be like?
We are very satisfied with the architect's approach, which placed the well-being of the residents at the heart of the project. The space is designed in several blocks of buildings, oriented according to the sun. The dormitory includes 5 rooms that can accommodate 6 people each. A kitchen, a dining room as well as a reading room / meeting room are available in two other blocks. In the center of the property there is a large sports field and a garden.
Prefabricated panels, solar panels, rainwater recovery system, the project is environmentally friendly.
Parasismic, the buildings will be secure and will be able to accommodate the surrounding population in case of a natural disaster.
Did the Chepang teenage girls go back to school?
Unfortunately, not yet. Since July, the health situation has deteriorated. There are now more than 1,500 new cases of Covid-19 per day. Schools have just reopened in a random way. The girls in boarding schools have returned to their villages in the spring. They help their parents with domestic tasks: cooking, taking care of brothers and sisters, grandparents, fetching wood... Our social workers follow their families, we have been able to provide them with financial support. They remain motivated to return to school as soon as possible.
We still need more than 40,000 euros for the project. If 1000 of you make an additional donation of 40€We will get there together.
THANK YOU for your generosity.
Your donations fund all of Planète Enfants & Développement's activities, unless you specifically request otherwise.