Fighting against violence towards women in Hanoi and Ho Chi Minh City
Why get involved in a battle against gender violence in Vietnam?
In Vietnam, 58% of married women suffer from some form of physical, sexual, and/or emotional abuse at some point in their lives by their intimate partner[1].
The Vietnamese society remains patriarchal and the traditions continue to strongly structure the relations between women and men. The Vietnamese government has developed policies for promoting gender equality and ending the violence, especially in its 2011-2020 National Youth Development Strategy. The goal: 70% of young people are aware of gender equality.
However, efficient implementation of laws requires additional efforts and resources.
Local authorities remain unaware of the issue, the number of social workers and care facilities are insufficient: there are only two shelters dedicated to women victims of violence nationwide.
Lastly, a study conducted by Planète Enfants & Développement in 2018 in three districts of Ho Chi Minh City reveals that the women are aware of the danger and the inequality of the violence, but that they prefer to not disclose it to the public.
[1] In 2010, the General Statistics Office of Vietnam published the first and only national-level study on domestic violence.
How to deal with gender violence in the Vietnamese society?
Facing this context, Planète Enfants & Développement, in collaboration with the NGO Batik International, launched the project Hy Vong ("hope" in Vietnamese) in 2019 to fight against violence done towards women.
The first objectives of this project are to promote awareness of the problem among communities and authorities, encourage people to discuss the issue, to identify and take care of the women victims and to coordinate different social actors.
Our concrete response is in three levels:
Creating student clubs in six universities in Hanoi and Ho Chi Minh City to raise awareness of young Vietnamese on the issues of gender equality and gender violence.
Establishing a local committee in each of the three intervention districts fighting against the violence in order to coordinate the actors and social services.
Training the social workers and improving reception conditions for the victims.
We have already conceived a kit of methodological tools, in partnership with a psychiatrist, to evaluate the recovery of the women after a period of care.
Women and men victims of violence
Local authorities and social professionals
University youth and the Vietnamese civil society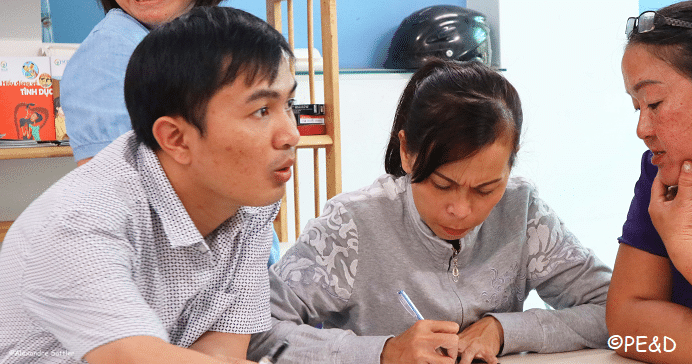 Our Local Partners
CSAGA – "Center for Studies and Applied Sciences in Gender – Family – Women and Adolescents" is a Vietnamese NGO dedicated to the promotion of women's rights and to children in vulnerable conditions as well as supporting victims of violence. The ongoing projects of the organization focus mainly on prevention, support, socio-economic empowerment, and advocacy on the issues of gender-related violence.
Supporting Community Development Initiatives (SCDI) – a Vietnamese NGO found in 2010 that implements projects to support the most marginalized populations (AIDS patients, sex workers and their children, drug consumers, etc.) with networks of volunteers in the communities (more than 150 groups of volunteers).
Vietnam Women's Union – A socio-political organization that campaigns for the development of women and gender equality. It accompanies women from all backgrounds and participates in the drafting and implementation of the laws in Vietnam.
BATIK International – A French NGO that develops projects of socio-economic integration of vulnerable individuals, mainly the women, in France and internationally. This organization has built solid expertise on gender issues. Present in Vietnam since 2008, BATIK International implemented a project named Phu Nu in the industrial regions of Hanoi in order to improve the living and working conditions of migrant workers from the countryside.