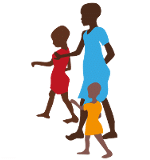 Urban zones are in full expansion in all of the countries in which we work. Rural depopulation often takes place due to demographic pressures and climate change and drives a high number of families to relocate to large cities, in the hope of finding a job and better living conditions. However, with no knowledge of their new environment, discriminated against and lacking any confidence in themselves, families tend not to take initiative and access social services. At best, they find a very precarious job but ultimately remain in a situation of survival. Our Family Support projects aim to permanently improve living standards of very vulnerable people in urban areas. The method, initially designed by the NGO Inter Aide, is highly innovative in the field of development. It is non-sectoral and provides families with information as well as psychological support to help them solve their difficulties themselves. Without any material help, Family Support creates a mid-way point between families and the public and private services to which they can reach out, according to their needs.
The efficiency of the program is linked to two key success factors:
⇒ Strong collaboration with local authorities and local players of the social sector
⇒ Total involvement of the families in their recovery
Vulnerable families are identified by social workers during neighborhood visits or when they visit social assistance centers. Once a project has started, word of mouth becomes a very efficient means to bring families in or to identify them. After a family requests support, the work is conducted in their home by a social worker who determines the objectives they should aim to achieve. The social worker also offers them intensive support over a period of around six months in order to put in place concrete and long-term solutions. While Family Support looks at the family as a unit, the contract of engagement is only signed by one family member, often the mother.
The team relies on a network of public and private stakeholders that has been established since the start of the projects to improve the quality of the care and service in the intervention zones. Social assistance centers ensure a welcoming and informative service on a daily basis which also benefits families in neighborhoods that are not followed-up with at home. Social workers also organize community activities within the social assistance centers. These include discussion groups, awareness sessions on topics that impact families' lives daily, parent-child activities, meetings with healthcare professionals, etc.
Thanks to the support of social workers, families become confident in themselves, improve their living standards and regain their dignity.
In order to further anchor social welfare in the neighborhoods, Planète Enfants & Développement has trained key members of the community to be Family Support volunteers, that is to say, "resource persons" intended to inform and advise the community and its families in difficulties. Their involvement thus strengthens the social fabric of the neighborhood and makes it more supportive.
Following Nepal's 2015 earthquake, facilities and schools were destroyed. The precarious situation of the residents made them all the more susceptible to social and health risks as well as to trafficking. Planète Enfants & Développement thus established a program that aimed to protect and welcome children in safe areas. First of all, to provide residents with psychological help, secondly to protect children through temporary welcome areas and schools, and finally to financially support families by helping them to recover their means of production.
Family Support in a nutshell
Aims:
– Make families confident and independent,
– Provide access to basic services such as education, health, employment, social protection, administrative aid,
– Strengthen local social fabric
The 5 stages of Family Support:
Identification of the most vulnerable families
Request for support made by the families
Summary of the different difficulties which the family faces
Definition of the aims
Psychological support followed by the achievement of the aims by a social worker
"Family support has helped us to be stronger on our feet." A Vietnamese mother who benefited from support
2019 results:
825 vulnerable families followed in 4 countries
401 government officials trained on the family support method in Vietnam
1769 families in 2 new social centres in Cambodia
349 family visits by social workers in Nepal