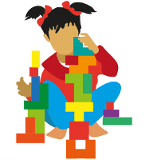 Development of the early childhood
The Early Childhood initiative is a major focus of Planète Enfants & Développement's work. As James Heckman, Nobel Prize in Economics 2000, explained, public policies in favor of Early Childhood development create undeniable socio-economic benefits with the highest returns on investment, which is integral to the development of a country.
We now know everything that is at stake during the first six years of a child's life. The experiences had and emotional relationships built during these years mold the child's approach to the outside world and are the basis of his or her development. Poverty and all its consequences have high risks. These risks impede a child from achieving his or her full potential. This is why Planète Enfants & Développement has chosen to focus our work on instituting methods which offer children a protective environment that is more suitable for their development: nurseries and pre-schooling, without forgetting the family environment and providing activities for parents to help them with parenthood. It is a question of giving children, particularly those from disadvantaged areas, chances for a better future.
Planète Enfants & Développement increases the access to an early childhood education by establishing community or state schools. We do this by building or renovating schools in underprivileged neighbourhoods, training teachers from communities, training management committees, and monitoring the schools until they become independent. All activities are led in conjunction with stakeholders of the early childhood sector, particularly the municipalities and supervising ministries. With our partners, we create innovative pedagogical tools, adapted to the socio-cultural environment of children. We also create games or videos that are made available to schools as well as all teachers.
Planète Enfants & Développement took part in the creation of the pre-school program in Cambodia and also created 150 nurseries in Cambodia and Burkina Faso. The model that was developed in Cambodia has been funded and promoted on a larger scale. With this expertise, we have taken the initiative to strengthen this facility by opening a Resources Center for the Early Childhood, dedicated to pedagogical innovation, expanding dialogue and the exchange of good practices between professionals within the sector.
Planète Enfants & Développement created a nursery school programme which welcomes the children of exploited women or those who work in prostitution in Nepal. The aim of the cente is to offer children physical protection as well as psychological support while promoting their intellectual and emotional development.
In the 1990s, Planète Enfants & Développement introduced nurseries in factories in Cambodia. Since then, the political and economic situation has changed drastically. We are currently trying out a range of pilot nurseries for children of women who work in textiles factories. Whilst doing this, we always pay particular attention to the replication of the model, not only in other factories but also in the family environment so that parents are able to replicate good nursery practices at home through games, listening to children, hygiene, etc.
Parent-child relationships are essential for the development of the child. This is why we also carry out a number of activities on the subject of parent education in communities as well as social centers.
2015 results:
More than 2,000 children pre-schooled each year.
27 independent nursery schools created in Burkina Faso and in Cambodia over the past 5 years.
1 nursery school dedicated to children between the ages of 2 and 6 from a very risky area in Nepal.
The opening of 2 nursery classes in re-built schools in Nepal.
The creation of educational games.
The creation of handbooks (philosophy and yoga in nursery schools).
2019 results :
22 children welcomed in the Nursery school of Hope in Nepal
12 new preschools and 14 others upgraded in Cambodia
159 women trained as nursery assistants in Burkina Faso
760 methodological guides & educational sheets distributed to teachers on the BOP platform in Burkina Faso