CREATION OF THE PROFESSION OF CHILD MINDER IN BURKINA FASO
An opportunity for women and children
In Burkina Faso, as in our other countries of intervention, societies are changing.
Women are working outside the home, families are more fragmented, traditional models are being questioned. Parents have ambitions for their children. We are seeing a growing demand for professional childcare for toddlers.
Burkina Faso recently adopted legislation to provide a framework for the awareness and education of children between 3 and 36 months. But in practice, the first public nursery is under construction, and until recently there was no specific vocational training for child minders, for example.
In Yatenga, a poor province in the north of the country, unemployment, of which women are the first victims, reaches 60%. Insecurity in this area, together with the threat of terrorism, does not favour the emancipation of young girls and mothers either.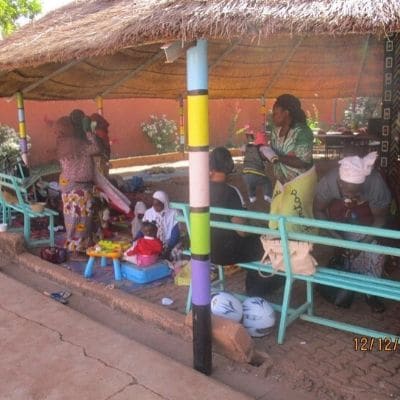 For Planète Enfants & Développement, taking action for toddlers is a priority in the fight against inequalities from the earliest age.
To meet the demand for childcare, to ensure the safety, health and good development of children under 3 years old, but also to give women an opportunity to train, to undertake and to have a qualified job, we have created a diploma training course for child minders in partnership with 3 local associations: APEJEF, AFEDEB and AGB.
This project has several components:
Elaboration and validation of job references

with technical experts from the Ministry in charge of Social Action, the National Institute of Training in Social Work (INFTS) and the Ministry of Youth and the Promotion of Youth Entrepreneurship.

Training modules for nursery assistants

designed by a pair of experts from the FormInnov Institute (Elodie BLIN) in France and the INFTS in Burkina Faso (Serge BAZIE) and validated by a scientific committee. A total of

11 modules

have been created, notably on the design and equipment of childcare centers to create a healthy and safe space, take care of children, and develop play activities adapted to their age.
Development of

4

training modules on entrepreneurship and employment

in partnership with "Entrepreneurs Du Monde" (World Entrepreneurs) and a technical expert from the Ministry of Youth and the Promotion of Youth Entrepreneurship.

Training of a pool of trainers

composed of technicians from the Ministries in charge of Social Action and Youth.
Our objective is that the

159 women trained

obtain a state-recognized diploma at the level of "Certificat de Qualification de Base" (CQB). They will then be able to set up at home, as self-employed women, a mini childcare center that can accommodate 2 to 4 children or integrate more easily into existing kindergartens.
At the same time, we are supporting a local association, the "Association of Baby-Sitters" (AGB), to improve the layout, pedagogy and management of its private childcare center, which currently accommodates 15 children and whose beneficiaries are mostly girl-mothers who go to school. This childcare center, which has a social vocation known as "application", will be an opportunity to highlight the benefits of an adapted and professional approach to toddlers.
159

women selected to attend the first training sessions organized in the commune of Ouahigouya from 9 December 2019 to 1 February 2020.
→ 159 unqualified women trained as childcare minders.
120

women in practical training (

60

new apprentices +

60

in employment).
Ouahigouya, rural communities of Oula and Tangaye, Yatenga province, Burkina Faso

Our partners
Association for the Promotion of Early Childhood Education in Faso (APEJEF)
Association of Babysitters (AGB)
Women's Association for the Development of Burkina Faso (AFEDEB)
National Institute of Training in Social Work (INTS)
Directorate of Child Development
Northern Provincial and Regional Directorates of the Ministry in charge of Social Action
Northern Regional Directorate of Youth and Youth Entrepreneurship
Northern Regional Council
Town halls of the communes of Ouahigouya, Oula and Tangaye
Departmental Coordination of Women
European Union
"Solidarité Société Générale" Foundation