AWARENESS AND PRESCHOOL EDUCATION CENTERS
More nursery schools in Burkina Faso for equal opportunities for toddlers
According to official figures, only 5 out of every 100 children in Burkina Faso were in preschool by the age of 6 in 2018. There are only 170 public establishments for children under 6 years of age throughout the country, compared with 1348 private establishments and around 350 community-based (according to the 2018-2019 statistical yearbook of the Ministry of National Education, Literacy and Promotion of National Languages).
It is known, however, that before the age of 6, children's brains have an enormous capacity for memorization and that this is an ideal time to learn.
It is therefore by intervening from an early age that we can give every child the chance to develop his or her full potential and fight against inequalities.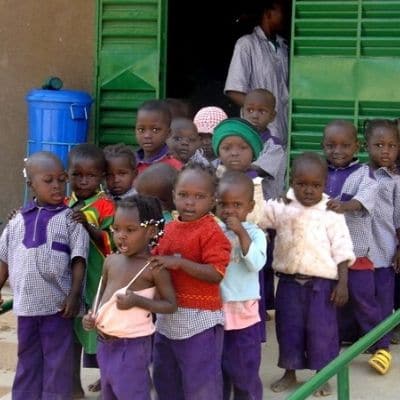 Since 2011, we have been taking action on a daily basis to ensure that more and more children, especially the most vulnerable, have the chance to attend "school" before the age of 6.
We are building, renovating and expanding

Awareness and Preschool Education Centers

that welcome children from 3 to 5 years old in small, medium and large classes.
We train monitors and educators in preschool education.
We organize awareness sessions for families on the importance of preschool education for children.
We distribute school uniforms, especially in rural areas, to encourage school enrolment.
We identify orphaned and vulnerable children to enrol them in preschools.
We form the management committees of the Awareness and Preschool Education Centers.
We support the establishment of kindergartens
Our aim is for the Community Awareness and Preschool Centers to become autonomous.
12 Awareness and Preschool Education Centers built since 2011 in underprivileged neighbourhoods of Ouagadougou, Saaba

1

 application Awareness and Preschool Education Center with 6 rooms built for middle managers in social work
7084 children welcomed
112 vulnerable children enrolled in preschool education in 2019
Ouagadougou and then national scale, Burkina Faso

Our partners
National Institute of Training in Social Work
Town halls