THE EARLY CHILDHOOD RESOURCE CENTER IN CAMBODIA
Improve the quality and access to the services for young children (0-6 years)
After the end of the civil war in 1991, the Cambodian government, supported by international organizations, developed legislation and policies to strengthen the education system and expand access to school for all children.
With its Strategic Plan for Education 2019-2023, it recognizes the importance of the first 1000 days in a child's life and aims to facilitate access to early childhood services (day-care-centers, preschools), especially for the most vulnerable children and in rural areas.
It is essential, but it is not enough. It is also essential to strengthen the training of early childhood professionals and to provide them with quality teaching materials.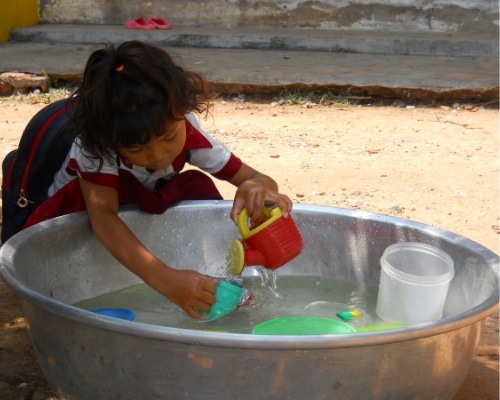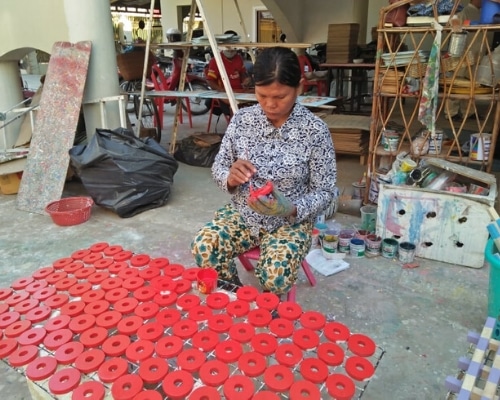 In order to promote a good quality of care for toddlers, we set up in 2010 in Phnom Penh an Early Childhood Resource Centre (ECRC).
With the support of our local partner Krousar Yoeung, a specialist in Early Childhood in Cambodia, we have developed training for educators and teachers, teaching materials but also teaching aids, some inspired by Montessori pedagogy.
In 2019, the CRPE has finalized, with a committee of experts, a catalogue of 55 educational games certified by the local authorities, which will be available to educators throughout the country.
The Resource Centre operates on the model of a social and solidarity-based enterprise, since the profits from the sale of games and educational materials are reinvested in training and the design of new games. It currently has 11 employees and is also part of a strong social approach since it employs people with disabilities.
The CRPE is also responsible for running the national Network on Early Childhood Care and Development (NECCD). This network, which has an advocacy role, makes recommendations to the national authorities. Today, 30 organisations are part of it.
With the support of the Ministry of Education, Youth and Sports, we have enabled our local partner, Krousar Yoeung, to become autonomous in the management of the centre.
It is this Early Childhood Resource Centre that led us to set up a new project to support community preschools in Cambodia.
300 children aged 0 to 6 years old and their families

114 preschools teachers

trained or sensitized

500 Early Childhood professionals 

30 civil society organizations

of the Network on Early Childhood and Care Development (NECCD)

Our Partners
Krousar Yoeung
NGO Education Partnership (NEP)
Cambodia Cooperation Committee (CCC)
Ministry of Education, Youth and Sports
French Development Agency
Czech Republic Embassy in Cambodia
Japan Embassy in Cambodia