SUPPORT FOR COMMUNITY PRESCHOOLS IN CAMBODIA
Improve access to Early Childhood services (3-6 years old)
In Cambodia, 23% of children aged 3 to 6 are enrolled in pre-primary education.
Preschools are sorely lacking in rural areas, where 90% of the inhabitants living below the poverty line are concentrated.
Yet, as psychologist Fitzhugh Dodson reminds us, "everything is decided before the age of six".
Pre-primary education prepares children for primary school and helps reduce inequalities from an early age.
After the Khmer Rouge regime from 1975 to 1979 and the occupation of Vietnam until 1989, Cambodia's education system was destroyed. Since the 1990s, Planète Enfants & Développement and UNICEF were the first to develop an alternative model to the State preschools to the public school, at low cost, and managed at the commune level. 150 community pre-schools (CPS) have been set up in the country. This model has been recognized by the Cambodian government in 2006 with the adoption of an official curriculum for community preschools and the certification of the training for teachers (98 % are women), which have been revised since, in 2017.
In 2008, more responsibilities were given to the communes in the establishment and management of preschools with the Decentralization and Deconcentration (D&D) Law. Commune Committees for Women and Children (CCWCs) specializing in social affairs were also established. A major turning point for the country and for our projects.
However, an evaluation of early childhood services of 2007 highlighted the challenges encountered by communes in the management of these facilities. The lack of technical and financial resources has resulted in 80% of community preschools functioning below minimum standards in 2018.
At the same time, due to deeply entrenched traditional roles in Cambodia, women are facing barriers to their economic and political empowerment (unequal share of domestic work, lack of access to skilled jobs and poor representation in decision-making bodies), which are reinforced when childcare services are not available.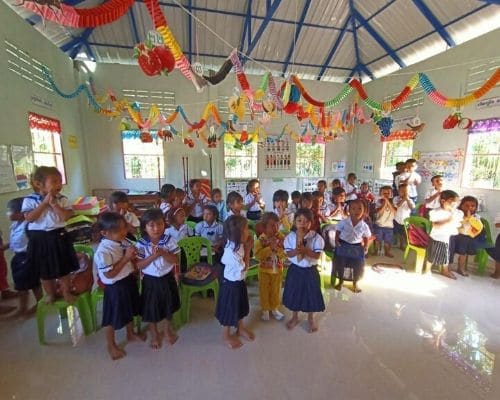 In Cambodia, we have supported communes in the establishment and long-term management of community preschools, and also families through parenting education sessions.
In 2019, 12 new community preschools were opened and 14 improved. 5 of them are now up to the State standards.
The standardization of community preschools ensures the financial sustainability of those who have reached a certain level of quality. Thanks to the standardization, teachers are given more responsibilities and their salary is multiplied by 3 (USD 160 as opposed to the usual 50).
Access to quality pre-primary education also has a positive social impact on child development (result of a field study conducted in 2019).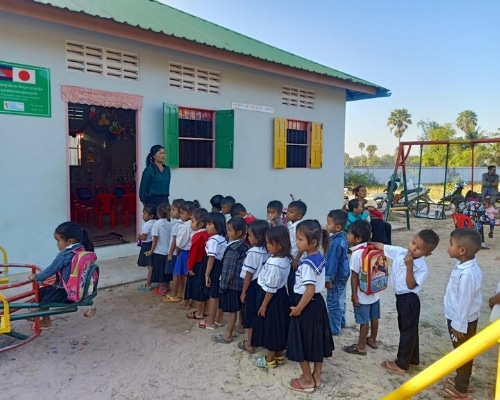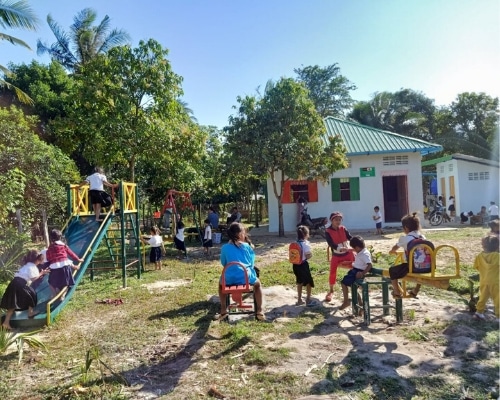 In line with steps adopted by the Cambodian government, and in particular the National Action Plan on Early Childhood Care and Development 2019-2023, we are supporting communities and local authorities' governance in mainstreaming pre-primary education and gender equality.
The project supports all levels of education stakeholders (from ministries to teachers and parents) to operate qualitative, sustainable and standardized community preschools.
At the same time, the project strengthens the capacities of the CCWCs and also supports the economic empowerment of teachers and vulnerable mothers (who have more time to develop an income-generating activity). Access to childcare services is thus crucial to support the emancipation of women.
From 2020 to 2022, with the support of the European Union and in partnership with local association Bandos Komar, the project targets 100 community preschools and 2,300 children in 4 provinces (57 communes). Among other activities: sub-grants for CPS renovation and construction, innovative pedagogical support for teachers through an E-learning platform, gender and parenting education sessions for parents.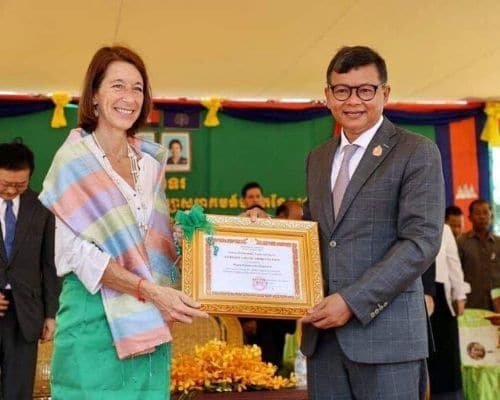 For its work and active support to Early Childhood Care and Development in Cambodia, Planète Enfants & Développement received a certificate of appreciation from the Ministry of Education, Youth and Sport in February 2020.
On the picture, Nathalie Dupont, Country Director Cambodia for PE&D, and H.E., Dr. Hang Chuon Naron, Minister of Education, Youth and Sport of Cambodia.
14 schools

created

357 school children

(including

188 girls

) supported for the 2019-2020 school year

42 technical visits

to support teachers in their activities
By 2023,

100 community preschools

supported in

57 communes

 spread over 4 provinces

2,300 children

aged 3 to 6 will benefit from quality education (and their parents)

100 teachers

will be able to work in better conditions
57 communes in 4 Cambodian provinces: Kampot, Kampong Speu, Sihanoukville, Pursat

Our Partners
Bandos Komar for the implementation of the project in 50 community preschools
Ministry of Education, Youth and Sport
Ministry of Interior
Ministry of Foreign Affairs
Commune councils and Commune Committees for Women and Children of 57 communes
Commune committees for CPS management of 100 villages
European Union
French Development Agency