« Not for sale » in Nepal
Guide young Kathmandu prostitutes and their children out of sexual exploitation
The patriarchal system and the hierarchy of castes in Nepal promote the violation of cultural, social and economic rights of a large proportion of the population. Girls and women are traditionally lacking in rights in Nepal, both in society and in family. Village girls are very often illiterate people, victims of violence, extremely poor. Looking for any opportunity to earn a little money, many of them go to the city to seek work.
However, in Kathmandu, the leisure sector is particularly demanding for docile and gullible young recruits. 40,000 to 50,000 young women are hired as waitresses, masseuses, dancers or singers, and 50% to 75% of them are, in fact, prostitutes, propelled to provide sexual "services" to clients as well as the bosses. Violated, abused, and exploited, almost all are underpaid and exploited at will. One-third are children and it is estimated that the vast majority were recruited before turning 18.
With this programme and through its local partner, Planète Enfants & Développement helps young Kathmandu prostitutes and their children out of sexual exploitation. Its drop-in centre offers secure accommodation, as well as psychological and medical support. Young women can return to education as well as receive vocational training, to give them an independent social life.
The map of interventions is developed every year at the beginning of the project in order to target the main brothel areas of the city of Kathmandu and Bhaktapur, on the basis of our experience, but also taking into account the frequent changes in this industry.
Subsequently the following services are offered:
"mobile" services, where the team is composed of a social worker, a nurse, a psychologist and two welfare workers, and organizes the opportunity for women to ask questions on or be guided on the subjects of health, psychological and legal at any time during the week.
'strengthening' sessions are organized to allow these women to talk together, create self-help groups and be trained on health, rights, administrative procedures, managing their budget… but also to learn basic English. In this way, they benefit from practical advice on protection against exploitation (Request the writing of a contract, claim their salary) or emigration projects (legal migration procedures, risks, risk prevention).
 access to a rehabilitation Centre, both shelter and rehabilitation centre. This Centre welcomes, advises, directs and guides young girls so that they can finally take control of their lives.
The girls that we help are exploited in the leisure industry or are at high risk of exploitation, either because they work in it or they are friends with exploited girls (sisters, cousins, roommates…).
They receive "mobile" services: about 250 girls and women, every year. Among these 250 young girls, about 100 will benefit, on a voluntary basis, from ' building' sessions and 40 will have access to professional training (such as a Shanti sewing workshop) or support for income-generating activities.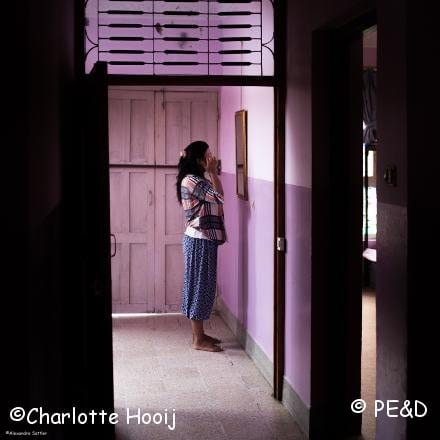 Location: the centre is located in the District of Nakhu in Kathmandu
Project duration: 3 years +.