BETTER LIVING STANDARDS IN PHNOM PENH SLUMS
For families to be protected and housed with more dignity
In 20 years, the population of Phnom Penh, the capital of Cambodia, has tripled to reach 1.5 million in 2015. Cambodians have massively fled the countryside because of climatic disasters and to find employment. This internal migration is difficult for Phnom Penh to absorb. There are nearly 300 precarious areas in the city: 1 person out of 5 lives in a slum.
Families living in these areas face many challenges:
Lack of land security: without a housing title, they can be evicted at any time0
Unsafe housing
Frequent floods that generate recurring costs to restore their homes
Lack of safe drinking water, poor or non-existent sanitation systems
Financial problems linked to high unemployment
Health and social problems: water-related illnesses, depression, domestic violence, child trafficking, drug use, etc.
In order to protect children and their families and to fight against poverty, Planète Enfants & Développement (PE&D) and its Cambodian partner SKO, have implemented a project in Phnom Penh slums around 4 priority areas :
Our partner SKO has been providing family support since 2010. This involves offering families in great difficulty social assistance for 6 to 9 months, with home visits, to help them solve the problems that keep them in poverty.
We also opened two social centres in 2019: one in Preak Toal and the other in Deum Chan.
They allow social workers to welcome families 5 half days a week. Sensitive topics are discussed there more easily than during home visits.
In 2019, 86 very vulnerable families were supported in identifying and resolving their financial, health, employment or violence problems. This individual follow-up enabled them to become more independent. They are now able to use the social services to which they are entitled.
At the same time, 54 Family Development Volunteers (VDF) were trained to identify families in need and facilitate first contact, as well as 4 municipal members.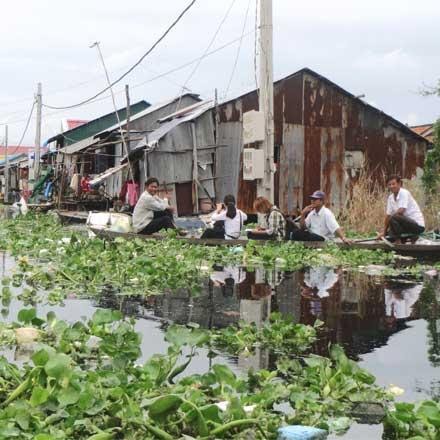 In 2017, we have decided to go further in family support: for many families, housing and sanitation are at the heart of the difficulties.
Voluntary groups of residents are being formed in the neighbourhoods to carry out diagnoses in the homes and identify risks. These are the "PASSA" groups*. They produce a map to identify safe housing and those in need of emergency renovation. The work must be carried out outside the rainy season, which runs from July to October.
In 2019, 42 households were able to receive renovation kits and 21 of them benefited from a low-cost loan thanks to our local micro-credit partner Chamroeun. Interested residents were then able to participate in information sessions to exchange recommendations on housing maintenance.
At the same time, to guarantee the quality of the constructions, 133 local craftsmen, carpenters and masons took part in one-day technical training sessions. This was an opportunity to share their know-how with the inhabitants.
Finally, to solve the housing crisis in Phnom Penh, Planète Enfants & Développement supervised a study on the only social housing project carried out by the Cambodian State in the slums of Borei Keila (March 2020).
* PASSA Group: "Participatory Approach for Safe Shelter Awareness".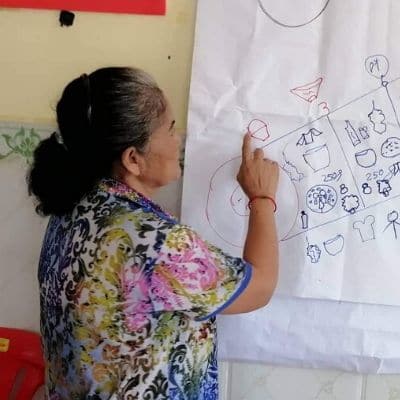 Voluntary residents' groups "PASSA" define the main development priorities for their neighbourhood and pass them on to the local authorities. They meet together every month and invite all the inhabitants to discuss them every quarter.
Among the works carried out are the connection of households to the water board, the creation of drainage systems, the repair of a concrete road and the construction of wooden footbridges to enable families to access homes in times of flooding.
In 2019, 4 new PASSA groups were created. They promote solidarity between the inhabitants and make it possible to tackle social issues such as the question of schooling for children or access to healthcare.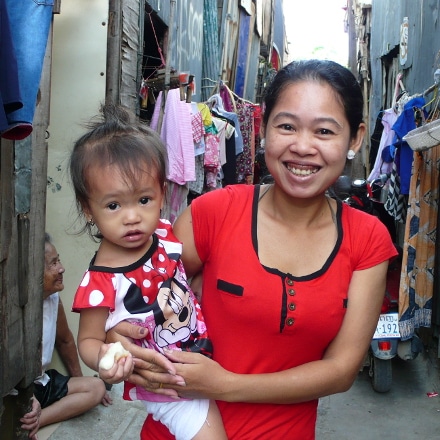 Fight against domestic violence:
The project to fight against domestic violence in Cambodia is the subject of a separate project sheet.
86 vulnerable families monitored by social workers

1769 visitors

in the 2 social centres

54 Family Development Volunteers

trained

42 households

benefiting from renovation kits, 21 of which benefited from low-cost loans

133 local craftsmen

trained and disseminating their know-how (carpenters and masons)
Phnom Penh, poor neighbourhoods in Chbar Ampov, Mean Chey, Chamkar Mon and Boeng Keng Kang districts

Our Partners
Samathapeap Khnom Organisation (SKO)
Chamroeun