SOCIAL SUPPORT FOR VULNERABLE FAMILIES IN BURKINA FASO
Fight against social inequalities, gender-based violence and promote good health practices
Burkina Faso is experiencing strong population growth (+3.05% per year) and rapid urbanization. It is estimated that by 2050, the population of the capital Ouagadougou will be 6 to 12 times larger.
24% of the families living there are without income and 65% of women are victims of domestic violence. Children are often unaccompanied.
Today, the State is struggling to cope with this population growth, which strongly affects the quality of life of the most deprived. Often, the most disadvantaged families are not aware of the services to which they are entitled.
The Centre West and the Boucle du Mouhoun are particularly vulnerable regions where poverty rates are 51.7% and 59.7% respectively, compared to 9.3% at the national level (National Institute of Statistics and Demography, 2014).
The inaccessibility of many civil registry services and the lack of trained staff explain why, in both regions, less than 60% of births are registered within the legal two-month time limit (Directorate General for the Modernization of Civil Status, 2017).
Moreover, in the Boucle du Mouhoun, nearly 25% of family planning needs are not covered. The situation is also worrying in the Centre West, where more than 16% of needs are not covered (Demographic and Social Survey, 2015).
The supply of sexual and reproductive health services for young people and adolescents remains insufficient. Young people lack reliable information and quality services adapted to their needs.
Finally, the weakness of mechanisms for caring for victims of gender-based violence in these regions and the dramatic persistence of cases of child marriage, forced marriage, excision, domestic violence and physical violence against girls and women must be highlighted.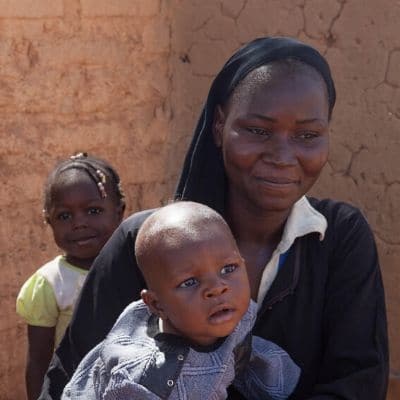 Our objective is to support marginalized families in Ouagadougou underprivileged neighbourhoods (without access to water, sanitation and electricity services), and in the Boucle du Mouhoun and Centre-West regions. To improve their living conditions and well-being, we facilitate their access to basic social services and improve the quality of civil registry services.
Setting up social permanence offices where social workers receive families in the heart of the underpriviledged neighbourhoods of Ouagadougou
Carrying out home visits with the development of a personalized support plan for families in need
Referral of families to the appropriate services according to the nature of their problems and needs: health, education, social, economic, administrative, etc
Deployment of

innovative community-based and participatory approaches

in 40 communes in the Boucle du Mouhoun and Centre-West regions
Training of civil registrars of the 85 communes of the Boucle du Mouhoun and Centre-West regions
Support for the

modernization of civil status

through the provision of archive cabinets and computer kits
We organize:
Women's advocacy groups

for victims of domestic violence

Workshops for pregnant women

, to prepare them to welcome their child, then mother-baby workshops to help parenting

Parenting workshops

encouraging men's participation

Thematic meetings with adolescents

to provide information on sexual and reproductive health (family planning)
The

Husbands' School

, an experience of gender inequality reduction based on a participatory and innovative approach: the involvement of men is essential. A club of 15 married men on average benefits from capacity building sessions on the following themes: gender-based violence, gender equality, family planning, sexual and reproductive health of young people and adolescents, civil status. Participants are then encouraged to sensitize other men in their community through focus groups.
In order to

improve practices for the registration of births

, deaths and marriages

(civil status), we conducted a study in 39 villages at the end of 2019. Between now and 2022, we wish to support the modernization of registration systems in the communes by training 3 civil registrars from the 85 communes where the project operates and equipping them with quality civil registration and archiving equipment.
2400 families

monitored at home between 2010 and 2018

807 people

received permanent social support

250 women

victims of domestic violence were able to participate in focus groups.

300 women

receiving gynaecological and family planning consultations

85 men

and women

receiving free HIV/AIDS testing

150 Husbands' schools

set up and

2250 married men

trained

300 underprivileged families

supported
10 partner associations strengthened on the family support method, the Husbands' School and the promotion of birth registration.
Underprivileged neighbourhoods of Ouagadougou and 10 provinces of Boucle du Mouhoun and Centre-West, Burkina Faso

Our partners
Burkina Faso Association for Family Welfare
Association for Community Promotion and Marketing
Association of Municipalities of Burkina Faso
10 local associations
Ministry of Social Action and Solidarity
National Institute for Training in Social Work
Ministry of Health
TESTIMONY
History of the C. family: "Since my family has benefited from the support of Planète Enfants & Développement and AGIR, things have started to change. My husband and I can now sit down together and discuss about certain subjects. I also learned how to educate a child, to follow him, not to shout at him… All this has improved our life and my family is flourishing. I thank the project and the whole team of facilitators very much".