A SHELTER FOR YOUNG CHEPANG GIRLS IN NEPAL
An opportunity for them to carry on their education and escape the risks of violence and early marriage
The Chepang community is one of the most marginalized ethnic groups in Nepal.
90% of the Chepang live below the poverty line in remote and hard-to-reach areas, far from any basic services.
Some girls have to walk up to 7 hours to reach the college.
Schooling for adolescent girls is far from being a priority. Only 1% of adolescent girls can read and write.
While the legal age of marriage in Nepal is set at 20, in the Chepang community, 2 out of 3 girls are married before the age of 16.
Continuing education is an opportunity for girls' emancipation but also for society as a whole: each additional year of schooling in a girl's life reduces the risk of death of her unborn baby by 10% (UNICEF, 2013).
Since 2015, Planète Enfants & Développement and its local partner Prayas Nepal have been supporting a home for young girls run by the Chepang Community Association. Extremely dilapidated, it no longer meets any safety and health standards.
It is therefore becoming urgent to secure and improve the girls' living environment, but also to reinforce their support to avoid discouragement and abandonment.
This is why we are launching the construction of a new boarding school. The new 300m² building, which is eco-responsible and complies with anti-seismic standards, will be built on land made available to the Chepang Community Association by the local authorities of Gajuri, a town of about 10,000 inhabitants in the district of Dhading.
This home is a chance for 35 girls to continue their studies and envisage a future other than that of their mothers, who are often illiterate and victims of violence and discrimination.
The hostel will provide the girls with support courses in science and literature to help them catch up and advice on their vocational orientation. They will also be able to discover the virtues of individual and collective sport, which is little practiced among the Chepang.
Our objective in two years time: the autonomous management of the home by the Chepang Community Association and our partner Prayas Nepal, to enable more and more girls to have the same chances to continue their studies.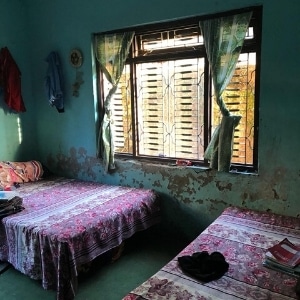 The Covid-19 postpones the start of construction of the new home until November 2020. And we are now 40,000 euros short of what we need to ensure this project.
On the programme: fitting out the dormitories, kitchen and common rooms, purchasing sports equipment and fitting out the sports area, as well as setting up sustainable energy solutions and a vegetable garden. Finally, to ensure the supervision of the girls, we plan to recruit two private teachers, a guidance counsellor and a sports coach.
35 young girls from the Chepang community aged 11 to 18
City of Gajuri, Dhading district, Nepal

Our partners
Chepang Community Association