A SECONDARY SCHOOL IN KOUBRI
Fight against school dropout in Burkina Faso
In sub-Saharan Africa, dropping out of school is a real challenge. Even more so in rural areas where children often have to travel several kilometres to go to school, where they help their families in the fields, to look after their brothers and sisters…
1 in 5 children do not complete primary school.
This is why Burkina Faso defined in 2012 a Strategic Development Programme for Basic Education (PDSEB 2012-2021).
This programme advocates compulsory schooling up to the age of 16 and free public schooling.
It defines "formal basic education" which includes: pre-school nursery education, primary education (6 years) and post-primary education (middle school, 4 years)".
The programme also aims to make it easier for children to continue their studies without having to change schools until they obtain their BEPC (examination at the end of the secondary school).
This is referred to as the "educational continuum".
In 2018, the Foundation "Agir pour les Enfants", a partner of our association, delegated to Planète Enfants & Développement the construction of a college in the department of Koubri, with the local association ICCV.
Convinced that educational continuity can be decisive in a child's schooling, and to remedy the lack of schools, we accepted this mission. The new secondary school is therefore located right next to the primary school in the village of Napagting-Gounghin.
Two classrooms have been built, one of which has been operational since October 2019, the next two will be built and will open in October 2020. These 4 classrooms will accommodate 240 pupils per year.
We have also decided to equip the primary school and the secondary school with a school canteen to allow all the pupils to benefit from a daily lunch. It will be operational from the start of the school year in 2020.
Finally, we are supporting our local partner ICCV in the construction of a library to offer the children tutoring, computer classes and cultural and socio-educational activities. The library will even offer 3-week solidarity workcamps during the school holidays around specific themes. It should open its doors in February 2021.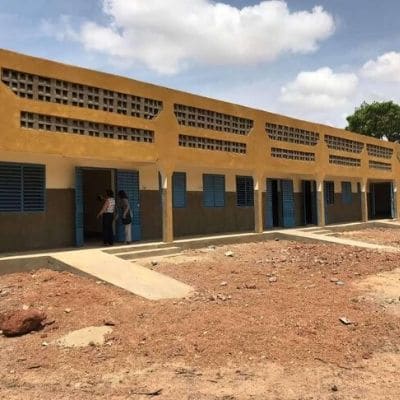 Directs :
240 schoolchildren each year in secondary school
300 schoolchildren each year in primary school
1000 children involved in extra-curricular activities

10

educational and administrative staff each year
Indirects :
2500 inhabitants of Napagting-Gounghin village
45 000 inhabitants of Koubri
Napagting-Gounghin village close to Koubri, Burkina Faso
August 2018 – December 2021

Our partners
Community Initiative Changing Life (ICCV Nazemsé)
Koubri City