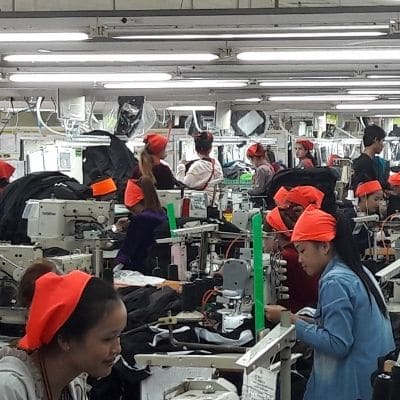 Chhai Leng lives in a village of the Kampong Speu province in Cambodia. She is 62. Every day, she wakes up at 4 AM to take care of her five grandchildren: "If I don't help my children, who will?"

Like many women in Cambodia, her daughters have to leave their children behind in the countryside, with overrun grandparents, 6 days out of 7, so that they can get to the factory where they work. The textile industry employs nearly 800,000 people in Cambodia, 80% of which are women.
The Cambodian law imposes on companies employing more than 100 women to offer childcare services, in their premises or nearby. In reality, the law is largely ignored.
To let these women continue working and contribute to the family's income, to provide children with appropriate care and learning, to "free" grandparents, Planète Enfants & Développement launches a new 4-year-long project. We will develop 22 community nurseries in villages of the Kampong Speu, Kandal and Phnom Penh provinces.Over 3,000 women garment workers will benefit from these nurseries, welcoming 25 children between 3 and 36 months each.
"We want to uplift a new model of nurseries that implicates factory employers in the funding and involves not only parents, but also community councils. We have identified the 5 first potential locations: we are currently in discussion with companies and the municipalities that make land available. In parallel, we are working on the nurseries' plans and are about to make an invitation to tender to Cambodian builders. Covid-19 has slightly delayed the project as it was hard to meet with local authorities. If the situation does not worsen again, we hope to be able to open the first nurseries in February 2021.", explains Nathalie Dupont, the PE&D Cambodia Director.
A launch seminar will take place in the week of the 19th October, following the Cambodian custom, with the governors of the three provinces, the community councils, the textile factories, big brands and also the Cambodian ministries involved in the project. The few private nurseries that exist are too expensive, and it is time to find an alternative model supported by the State.
To undertake this project, we have received a $2.7billion subvention from the World Bank thanks to funding from the Japanese Fund for Social Development.
October, 9th 2020